Sidewalks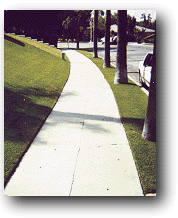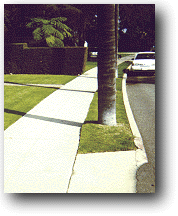 There are over 5,000 miles of sidewalk in the City of San Diego. The City is responsible for the maintenance of sidewalk damage caused by vehicle accidents, water main breaks, grade subsidence and trees within the Right-of-Way. Normal sidewalk wear and tear or age damage is the responsibility of the homeowner who can take advantage of the City's 50/50 Cost Sharing Program to help offset the cost of repairs.
50/50 Cost Sharing Program
Property owners are responsible for the repair or replacement of their sidewalk when damaged by privately owned tree roots, heavy vehicle traffic or drainage from private property. However, when sidewalks are simply old and deteriorated, the City will split the cost with the property owner as part of the Cost Sharing Program.
In this program, the City pays for 50% of the eligible replacement cost and the property owner pays the remaining 50%. The fee is based on a per square foot cost and is the same for all neighborhoods throughout the City. To qualify for the Cost-Sharing Program, the area to be repaired must be at least 75 square feet of old and deteriorated sidewalk not including the section of sidewalk directly behind the driveway entrance. After a field assessment is made, qualified property owners receive a cost share proposal by mail to sign and return. A request for payment is then sent 90 days before construction is expected to commence. The waiting period for sidewalk replacement after the field assessment varies depending on backlog of requests. This is a great way for the property owner to cut their costs for sidewalk replacement.
Sidewalk Repair Process

Sidewalk Maintenance Process and FAQ