Goats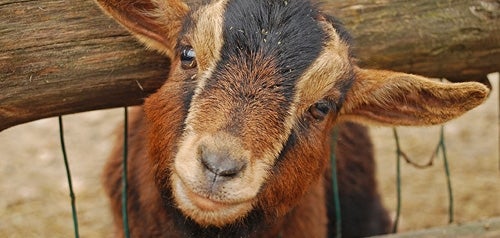 In January 2012, the City of San Diego amended its Municipal Code to allow residents of single family homes to keep and maintain two miniature goats. The specific regulations are in Section 44.0307 and can be found by downloading the following provision: Chapter 04, Article 04, Division 03, Animals.
Miniature goats are herding animals and need companionship. For that reason, the City requires you to keep and maintain two goats and not just one. The regulations require that a goat shed be provided and located outside of all required setbacks, which are based on the zoning of your property. Generally, most single-family homes in the city of San Diego would have to locate the goat shed 5 feet from side property lines, and 13 feet from the rear property line. The regulations also require that the goats have a secured outdoor area that is at least 400 square feet.
For specific information regarding the zoning setback for your property, go to the Zoning Map application and type in your address. You will then receive the zone name for your property. A link to "More Info" takes you to another page that directs you to the regulations for your zone. When viewing the regulations, go to the Development Regulations Table for your zone and look up "Setback Requirements."
You can also call the City's Development Services Department at 619-446-5000, provide your address and request the name of your zone and the zoning setback information. Someone will return your call and provide you with the information.