The San Diego Public Library is taking steps to enhance customer service and improve efficiency. From now through July 2017, libraries across the city will undergo a system-wide technology upgrade. As a result, several of the branch libraries will close for approximately two weeks at a time.*
During a closure, items placed on hold will be kept at the library and the hold extended. Patrons can request to pick up items at a neighboring library. Visit the Library Locations page for contact information.
---
Upcoming Library Closures
| | | |
| --- | --- | --- |
| Branch Name/Location | Closure Dates | Reopening Date |
| Oak Park Library, 2802 54th St. | Mar. 13, 2017 - Mar. 24, 2017 | Saturday, Mar. 25, 2017 |
| Point Loma/Hervey Library, 3701 Voltaire St. | Mar. 20, 2017 - Mar. 31, 2017 | Saturday, Apr. 1, 2017 |
| Ocean Beach Library, 4801 Santa Monica Ave. | Mar. 27, 2017 - Apr. 7, 2017 | Saturday, Apr. 8, 2017 |
| Logan Heights Library, 567 So. 28th St. | Apr. 3, 2017 - Apr. 14, 2017 | Saturday, Apr. 15, 2017 |
| Clairemont Library, 2920 Burgener Blvd. | Apr. 10, 2017 - Apr. 21, 2017 | Saturday, Apr. 22, 2017 |
| Mission Valley Library, 2123 Fenton Parkway | Apr. 17, 2017 - Apr. 28, 2017 | Saturday, Apr. 29, 2017 |
| Tierrasanta Library, 4985 La Cuenta Dr. | Apr. 24, 2017 - May 5, 2017 | Saturday, May 6, 2017 |
*Closure dates and times subject to change.
Each library will receive equipment upgrades and RFID (Radio Frequency Identification) technology. Materials will be tagged with RFID microchips, replacing the use of barcodes to catalog and track materials. New user-friendly self-check machines and enhanced security gates will also be installed in several branch libraries.
---
Frequently Asked Questions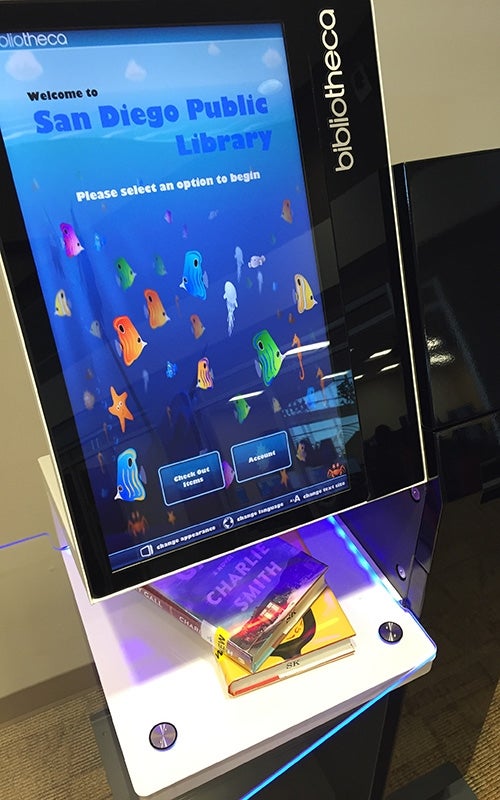 Why is my library doing this project?
The San Diego Public Library plans to convert all materials in the library collection from barcode tags to Radio Frequency Identification (RFID) tags.
RFID-based systems combine security with more efficient tracking of materials in the library. This speeds up the process for patrons when they check out materials; it also simplifies the inventory process. New self-check machines allow for privacy and will limit waiting times. Patrons will have the option to select from 27 languages on the self-check machines.
How does the RFID technology work?
RFID is a combination of radio frequency-based technology and microchip technology.
The information contained on a microchip tag is read using radio frequency technology. The system does not require line of sight or a specific position to read the tags, unlike the barcodes.
Are there any privacy risks with RFID technology?
No, the content of the microchips in the RFID tags does not contain patron information.
With new check-out machines, will Library staff still be available?
Yes, there will always be a library staff member available to help patrons use the self check-out machines. 
How is this project being paid for?
This project is possible through a California State Library grant and donations to the San Diego Public Library's Matching Equipment Fund.