Online Book Clubs
Image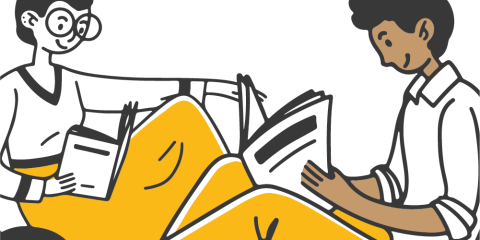 Join the Club: Shelter in a Good Book!
Book clubs you can do from home
Tea with Jeeves
Activities: Tune in Monday-Thursday at 3 p.m. to stream a read-aloud from Carry on Jeeves by P.G. Wodehouse. The videos will be also be available for later viewing.  Drinking tea while listening to this romantic classic is encouraged but not required.
Book Description: Carry On, Jeeves (1925) is a collection of ten short stories by P.G. Wodehouse. Jeeves is the unflappable and extremely competent valet to Bertie Wooster, a wealthy and less-competent young Londoner. Many of the stories had previously appeared in magazines and some were rewritten versions of stories in the collection My Man Jeeves (1919).
Author Bio: P.G. (Pelham Grenville) Wodehouse (1881–1975) was an English author and one of the most widely read humorists of the 20th century. His most-famous characters were the feather-brained Bertie Wooster and his sagacious valet, Jeeves. Wodehouse was a prolific writer throughout his life, publishing more than ninety books, forty plays, two hundred short stories and other writings between 1902 and 1974.
Previous Readings: Check out the Library's YouTube channel to watch previous readings by clicking on the different playlists below.
Welcome to our virtual book club!  We will be discussing a wide variety of books ranging from classic selections to modern literature. 
Current Selection
Title: Daughter of Fortune | Author: Isabel Allende
Schedule: Chapters posted Monday, Wednesday and Friday at 10:00 a.m. 
Author Bio: Isabel Allende (1942-) was born in Lima, Peru to Chilean parents.  Writing in the genre of magical realism, she is best known for the novel House of the Spirits (1982).  She is considered one of the first successful female writers out of Latin America.  She has won numerous awards including The Presidential Medal of Freedom in 2014.
Book Description: Set in Valparaiso, Chile our story centers around the orphaned infant, Eliza.  She is taken in by the wealthy Miss Rose and her brother, Jeremy.  As time passes, Eliza falls in love with a most unlikely suitor.  What follows is a passionate adventure story as the gold rush hits in 1849, and Eliza travels with her love as he seeks his fortune in San Francisco.