Official City of San Diego Flag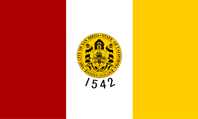 The official flag of the City of San Diego was adopted by the City Council on Oct. 16, 1934, when a sample banner was submitted by Albert V. Mayrhofer, on behalf of the California Historical Association, Native Sons of the Golden West, Native Daughters of the Golden West, and The San Diegans.
The flag is composed of three vertical bars, from left to right, red, white and gold. In the center white field is the official seal of the City and beneath it the date "1542," the year explorer Juan Rodriguez Cabrillo first entered San Diego Bay and claimed the area for Spain. The use of the three vertical bars is reminiscent of the colors of the flag of Spain, which flew over Cabrillo's ship.