Guaranteed Second Opinion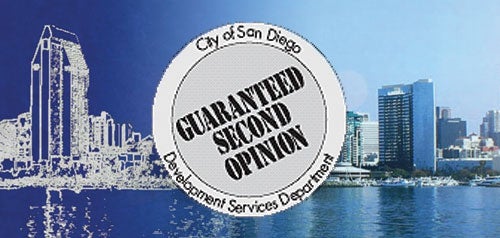 We guarantee a second opinion on request…no questions asked.
The "Guaranteed Second Opinion" symbol means the City of San Diego Development Services Department is dedicated to meeting your customer service needs. Environmental, engineering, planning, and building regulations today are more complex than ever. The resulting complex plans and construction require more judgment and interpretation than ever before - by both the applicant and the city staff - to ensure drawings and actual work comply with state and local codes. Customers are free at any time to ask for another interpretation of those codes from a supervisor, senior staff member, or project manager. Staff welcomes the opportunity to seek additional clarification.If for any reason you disagree with a code interpretation, want some confirmation or to voice a concern, just ask for a second opinion.
How does the Guaranteed Second Opinion process work?
If you disagree with the interpretation you received, staff will request a second opinion from their supervisor or you can simply request a second opinion.
How to Request a Guaranteed Second Opinion?
For Inspection Services, ask your inspector to arrange a second opinion with a supervisor or call 858-492-5070.
If your project is actively managed, contact the City's assigned, active project manager to provide you the assistance you need.
If your reviewer or active project manager is not available or for other issues/problems, you may request a second opinion by contacting their supervisor listed in the Staff Directory. In this directory, you can search for the reviewer or project manager's name, which will also list the supervisor's name and contact information.  
Additional Resources
Please reference Information Bulletin 610 regarding Project Issue Resolution services. 
We want to know how well we are serving you.
Constructive feedback is requested so that we can improve our service. We encourage you to complete the online Customer Feedback Survey at any time you obtain service to state your opinions with us.