Historical Resources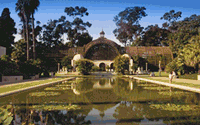 Helping San Diego Protect its History
You have come to the right place for learning more about the Historical Resources Board (HRB), the benefits and guidelines of historical preservation and more about San Diego history, historical sites, cultural landscapes and archaeological sites.
Read more...
Look What's New!
San Diego LGBTQ Historic Context Statement!
The City of San Diego Planning Department is pleased to present the San Diego Citywide Lesbian, Gay, Bisexual, Transgender and Queer (LGBTQ) Historic Context Statement. This document, financed in part from a Certified Local Government Grant from the California State Office of Historic Preservation, incorporates the feedback and input received from members of the community during our public comment period. A new workshop will be announced shortly to present the revised draft. Please check back soon for details!
As of August 30, 2016, most Historic Resources functions, including designations, Mills Act and project reviews will be located at:
Development Services Department
1222 First Ave., 4th Floor, MS 401
San Diego, CA 92101
Hearing Dates, Submittal Information and Appointments
The 2018

Meeting Dates Memo lists all Historical Resources Board and Subcommittee meeting dates and locations for the 2018 calendar year.
The

Historic Resource Nomination Process handout describes the requirements, fees and process to nominate a resource for designation on the City's Register of Historic Resources.
To schedule a submittal appointment, or for additional information about the program and process, please contact: 619-235-5224 or [email protected]
Historic Preservation Highlights
The City of San Diego is now using the California Historical Resources Inventory Database (CHRID) for the management of information related to the City's historic resources. The home page for the San Diego CHRID is http://sandiego.cfwebtools.com/. This database includes information about historic resources that have been designated or listed in the National Register and resources that have been identified as part of a community plan update historical survey. We encourage the public's use of this data.
If you have questions or find errors, please contact staff at [email protected].
I own a property that is 45-plus years old
Fix up, change or demolish a building 45 years old or older
Is my property historical?
View the Guidelines for historical designation
My property has been designated a historical site ... Now what?
View the benefits and responsibilities for historical sites, cultural landscapes and archaeological sites.
Surveys and District Information Available Online
Tell us about potential historic resources in your community!
Districts
I want to . . .
For questions or concerns call, 619-235-5224 or email [email protected]