News & Updates
Latest News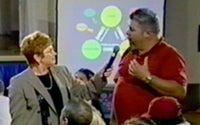 Electronic Community Orientation Workshop (E-COW)
Community Planning Group members can now take the Electronic Community Orientation Workshop online at their convenience.
Public Notices
Includes noticing on public hearing held by City Council, Planning Commission, Hearing Officer. Also includes decisions of impact findings on the environment, and notices on applications for permits, maps or other matters regarding land use and development. View public notices.
San Diego Facts, Statistics and Maps
Access to information about San Diego is at your fingertips. View the City's facts, statistics and maps.