San Diego Promise Zone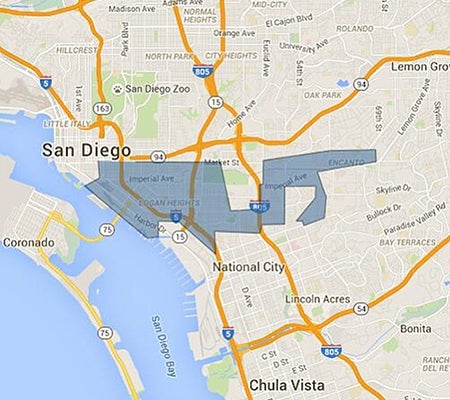 A swath of San Diego was designated in 2016 as the San Diego Promise Zone (SDPZ), which will provide funding to address key areas in the City's most disadvantaged neighborhoods. The
targeted area
stretches from East Village and Barrio Logan in the West to Encanto and Emerald Hills in the East. It has a population of more than 77,000 residents.
Through the 

Promise Zone initiative, the federal government partners are paired with local leaders to streamline resources across agencies and deliver comprehensive support.
Locally, the SDPZ is characterized as having high unemployment (15.61 percent), low educational attainment, insufficient access to healthy food, concentrated poverty (39.06 percent), rising crime rates and the least affordable housing in the country.
The City has
partnered with numerous organizations and agencies
in the San Diego area to establish the SDPZ. The partners have collectively identified six goals for the SDPZ to improve quality of life and accelerate revitalization. The goals include creating jobs, improving economic activity, reducing violent crime, increasing educational opportunities, providing better access to quality affordable housing, and promoting health and access to healthcare. 
The SDPZ can build upon the recent rezoning, the vacant land located along high-traffic corridors and the central location well-served by public transit to bring an economic surge to these underserved communities.
The newly designated SDPZ will receive customized
federal support
, including preferred access to certain competitive federal investments that further the SDPZ strategies and the designated, locally based federal staff to help implement the six goals and navigate federal programs. The Promise Zone designation lasts for 10 years and becomes effective on Oct. 1, 2016.
Read more about the City's plan to improve the quality of life in the

San Diego Promise Zone.
Promise Zone Working Groups
DRAFT WORK PLANS FOR WORKING GROUPS