Rescue 44
Multi-Purpose Emergency Response Vehicle
One category of coastal cliff rescue pioneered by San Diego lifeguards is mechanized rescue. Because most of San Diego's coastal cliffs are accessible from above, San Diego Lifeguards began outfitting specialized vehicles with progressively more sophisticated mechanical rescue systems. Lifeguards could then position the rescue apparatus near the cliff edge to quickly access and extricate patients. Early versions of these apparatus were manually operated relying on block-and-tackle rigging to create mechanical advantage for lifting rescue loads. Subsequent iterations of cliff rescue apparatus were based on four-wheel-drive industrial crane vehicles adapted for rescue. These later apparatus relied on hydraulic systems for lifting capability and were certified for live loads.
Recently, the San Diego Lifeguard Service was budgeted to replace its aging cliff rescue apparatus, Rescue 44. This was an opportunity to integrate new technologies along with ideas from years of lessons learned. The new cliff rescue apparatus, which will also be known as Rescue 44, is custom built based on a four-wheel-drive Pierce chassis; Pierce manufactures a substantial proportion of fire apparatus built in the United States. The truly unique feature of this new apparatus, however, is the addition of an articulating crane.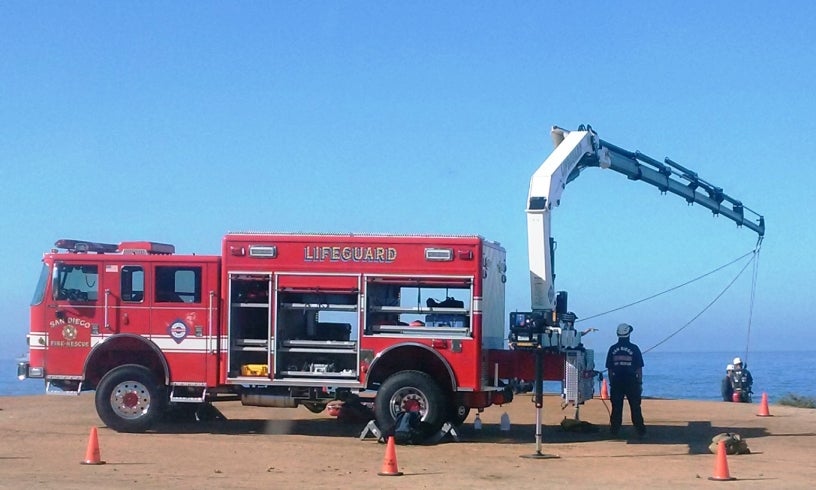 The new Rescue 44 is more capable than the apparatus it will replace in every respect. The horizontal reach of the crane has been extended from twenty-five to fifty-six feet. This extended reach will increase the amount of Rescue 44-accessible coastline. At full extension, the rated lifting capacity is nearly double that of the previous apparatus at 1,920 pounds. The cab of the new Rescue 44 can seat five with room to don harnesses and other rescue equipment while en route to an incident. Finally, new crane technology will help make rescue operations safer as the crane's electronic control mechanism is equipped with overload and stability sensing functions that will alert the operator to potential hazards.
In addition to its primary mission of coastal cliff rescue, Rescue 44 is intended to be a multi-response apparatus. During swift water and flood events, the heavy apparatus will be used by the San Diego Lifeguard River Rescue Team to safely transit water that would be too deep for response units based on passenger vehicles, and the long reach of the boom will be used to access victims stranded by flood waters.  Additionally, the technology and capacity of the crane will allow for new applications that will make the apparatus an even more valuable regional asset. When the crane is operated in a standard, non-live load setting the operator can take full advantage of the crane's capacity at shorter boom lengths. For example, with the boom extended to ten feet horizontally, the lifting capacity of the crane is approximately 15,000 pounds. This could open the door to applications such as large animal rescue, vehicle and vessel recoveries, and support on structural collapse incidents.
Specifications
Vehicle Manufacturer: Pierce
Gross Vehicle Weight: 45,000 lbs.
Crane Manufacturer: International Mold and Tool (IMT)
Crane Extension: 56 feet, Load Limit – 1920 lbs. at full extension
Crane Rotation: 420 Degrees
Other Features:

Four wheel drive
Wireless remote control with 100 yard range for crane operations
Rescue-rated Amkus capstan rope winch
LED scene lighting on all sides of apparatus and boom end
Remote control spot/search lights
Portable 9000 lb. Warn Winch can be mounted both sides and rear

Equipment Carried:

Water rescue equipment
Cliff rescue equipment
Swift water and flood rescue equipment
Traverse Advantage Basket (stretcher)
Rigging for heavy object recovery and handling