History
Ocean lifeguard services in San Diego began in 1918, prompted by the drowning of 13 people on a single day at Ocean Beach. Three lifeguards were initially appointed and attached to the Police Department. They were assigned to guard the area around popular Wonderland Park.
Lifeguard service was soon expanded to include Old Mission Beach and La Jolla Cove. The lifeguard stationed at La Jolla Cove had no facilities, no means of communication, and was responsible for all aquatic emergencies in La Jolla.

The first chief lifeguard, Spade Burns, was appointed in 1923 and worked out of Police Substation #1. In 1926, the Children's Pool lifeguard station was established, followed by Mission Beach in 1927 and Pacific Beach in 1929.
During the Great Depression, lifeguard staffing was reduced, but several drownings at Mission Beach prompted the City Council to restore lifeguard protection. By 1935, the San Diego Lifeguard Service included six full time lifeguards and thirteen seasonal lifeguards. World War II might have drained the staff of the San Diego Lifeguard Service, but City Council arranged for draft deferments for seven fulltime lifeguards.
In 1947, the San Diego Lifeguard Service was transferred from the Police Department to the newly formed Park & Recreation Department. Some lifeguards were unhappy with this change and it is said that the chief lifeguard quit; but under this new department there were some significant improvements. Uniform apparel was prescribed, regular performance testing for lifeguards was initiated, and a standardized hiring procedure was adopted. Equipment improvements included two-way radios in emergency vehicles and main lifeguard stations.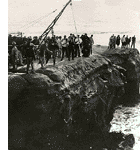 The coastal cliffs of San Diego have always harbored hazards, with occasional falls or entrapments necessitating rescue. In the 1940s, a cliff rescue apparatus was developed and assigned to the Ocean Beach fire station. This apparatus was basically a crane attached to a rescue vehicle. The crane had a powered winch, which allowed rescuers to be quickly lowered to victims and victims to be raised to safety.
In 1950, this apparatus was transferred to the Lifeguard Service, partly due to the fact that when firefighters were on another call, no one was able to respond with the cliff rescue apparatus. The responsibility of San Diego lifeguards for cliff rescue has continued ever since. Over the years, the cliff rescue vehicle has been replaced several times, each time with significant improvements. Today, lifeguards typically effect 50 or more cliff rescues each year.
In the 1950s, diving began to be a popular sport that triggered a substantial increase in water activity. This prompted the commencement of the San Diego Lifeguard Service Dive Rescue Team.
Also during the 1950s, Mission Bay was created through a momentous public improvement project involving extensive dredging of what had been known as False Bay. The Mission Bay Harbor Patrol was formed with lifeguards assigned to patrol the bay to ensure safety. This prompted some long range expansion plans for the Lifeguard Service. A headquarters was eventually created on Mission Bay, with a communications center staffed 24-hours a day and lifeguards on duty until midnight. Lifeguards acquired marine fire suppression equipment for fighting boat, marina, and dock fires.
In the 1960s, San Diego lifeguards were provided specialized training in first aid and cardiopulmonary resuscitation. An increasing number acquired scuba training. As new beaches were created by importing sand to the shoreline of Mission Bay, lifeguards were assigned to safeguard swimmers there.
San Diego lifeguards have long had responsibility for the enforcement of laws and regulations. In 1952, the Municipal Code made it unlawful to refuse to follow or comply with any lawful order, signal or other direction of a lifeguard. In 1972, a Municipal Code section was added to give lifeguards the specific title of public officer; with the right to arrest for misdemeanors and infractions. This also gave lifeguards the right to release those arrested on their written promise to appear in court at a future time. In other words, lifeguards were given the right to issue citations. In the same year, lifeguards assigned to harbor patrol functions were designated as harbor police, which eventually made these lifeguards peace officers.
In the 1970s, women began to be hired as lifeguards, equipment continued to improve, and rescue boats were acquired for use in rescuing swimmers off oceanfront beaches. Toward the end of the decade, serious inland flooding during winter months resulted in deaths to persons attempting to cross rain swollen rivers. Lifeguards were summoned to rescue persons trapped in these rivers and the San Diego Lifeguard River Rescue Team was begun. Over the years, this team has been an innovator and has come to be seen as one of the preeminent swiftwater rescue teams in the United States. About this time permanent lifeguards began being trained as Emergency Medical Technicians in order to improve the care given victims of beach related accidents and illnesses.
At the end of the 1970s, lifeguards assigned to patrol Mission Bay requested a reclassification to Harbor Patrol Officer, and the Mission Bay Harbor Patrol became a separate entity from the Lifeguard Service. Certain responsibilities continued to overlap, but the emphasis on swimming skills for employees in this assignment was reduced in favor of an emphasis on enforcement and other boating patrol functions. This separation continued until 1987, when harbor patrol functions were again integrated into the Lifeguard Service. The position of Harbor Patrol Officer was ended at that time and lifeguards once again took over harbor patrol duties.
In the early 1980s, San Diego Lifeguard Capt. Bob Shea was asked by the United States Lifesaving Association to help create a national manual for ocean lifeguards. In collaboration with a lifeguard representative from Los Angeles and another from Huntington Beach, "Lifesaving and Marine Safety" was completed and published. It was the first national text for the training and reference of lifeguards nationwide.
Night rescues had always happened on occasion, requiring a call-back of lifeguards from their homes to effect rescues. As the number of these calls increased, it became clear that this call-back system no longer provided an adequately reliable or expeditious method of response. In the summer of 1983, two lifeguards were assigned to work each night and respond to emergencies as needed. This service proved valuable and in 1984 it was expanded to 365 days a year. Presently, a minimum of two lifeguards are on duty at all hours to respond to swimmer rescues, boat rescues, cliff rescues, and other emergencies.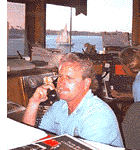 During the 1980s, the 9-1-1 system was implemented in the San Diego area and became the single telephone number for reporting all emergencies. Unfortunately, the San Diego lifeguard communications center, although staffed 24-hours each day, was not included in the system. Years of work to correct this oversight eventually resulted in full integration of the San Diego Lifeguard Service into the 9-1-1 system in June 1990. Today, those calling 9-1-1 to report emergencies can be transferred directly to lifeguard dispatchers, who are automatically provided with the name and address of the caller.
During the 1990s, several improvements were made to rescue equipment. In particular, a second /fire/rescue vessel was acquired and the cliff rescue vehicle was replaced with a four wheel drive vehicle offering river rescue, scuba, and cliff rescue response capabilities. Lifeguard Chief B. Chris Brewster was asked by the United States Lifesaving Association (USLA) to chair a national committee to create a certification program for America's beach lifeguards. This program was developed and approved, and the San Diego Lifeguard Service became one of the first lifeguard services to become nationally certified in May 1994.
Once the certification program was concluded, USLA's board of directors saw a need for an update to its textbook and asked Chief Brewster to rewrite the book. He located a publisher, convened a national committee, and edited a new national manual for beach lifeguards. "The United States Lifesaving Association Manual of Open Water Lifesaving" was published in March 1995 and is used in the training of beach lifeguards throughout America.
The San Diego Lifeguard Service has continued to expand and improve its operations to accommodate the increased use of San Diego beaches and waterways over the years. The skills and techniques of lifeguarding have come a long way since 1917, and as they continue to improve, so will the San Diego Lifeguard Service.