Surf Rescue/Patrol Vessels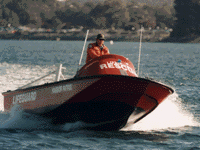 Custom designed Boston Whalers are the surf rescue/patrol vessels most widely utilized by San Diego Lifeguards. Commonly operated by a crew of two, these specially designed boats are capable of entering the surf line, even in large surf, to affect or assist rescues, as well as tow distressed vessels to safety with a towing post mounted near the stern. The boats carry basic medical supplies including spinal immobilization equipment, automated external defibrillators and oxygen.
Responding to a wide range of emergencies these vessels also carry bailout bottle, self contained underwater breathing apparatus (SCUBA), surf rescue boards, and rescue buoys. In addition to emergency response, these boats and their crews handle some law enforcement issues which require the boats to be outfitted with emergency sirens, lights and a public address system.