Lifeguard Vehicles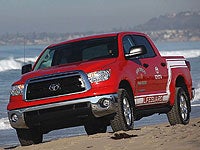 The fleet of patrol vehicles used by the San Diego Lifeguard Service was donated by Toyota. Supervisors respond in 4-Runner sport utility vehicles, while the patrol vehicles are four door Tacoma pick-up trucks.
All patrol vehicles carry a standardized assortment of equipment including, a rescue paddleboard, Ferno-Washington stretcher, EMT jump bag with basic first aid equipment including oxygen, an automated external defibrillator for cardiac arrest, two types of rescue buoys, and other supplies. A "Code X" box containing a bailout bottle SCUBA for quick underwater searches, two sets of mask and snorkel, and a small marker buoy with line and weight is kept in all lifeguard vehicles for missing swimmer emergencies.
Some of the supervisor vehicles are also equipped with cliff rescue equipment and in the winter are outfitted with river rescue equipment.