Adams Recreation Center
Register or view available classes
YOUTH CO-ED FLAG FOOTBALL
September 4 — December 9, 2018
Cost: $20 for the season (Fee includes: practices, games, jersey, certificate & a banquet at the end of the season)
Registration Codes:
Pee – Wee (5-7 years old) #55188
10 & Under (8-10 years old) #55189
12 & Under (11-12 years old) #55190
Register through Sunday, October 8, 2018

MOVIES IN THE PARK
Ward Canyon Neighborhood Park
Saturday, September 15th, 2018:  Ferris Bueller's Day Off (PG13+)
*Arrive early to get a good seat. Movies start at dusk
SUMMER LUNCH PROGRAM
June 18th to August 17th, 2018 from 12:30 to 1:30pm
Monday through Friday
12:30 to 1:30pm
*Free lunch & snack for children under the age of 18
(Partnered with the San Diego Unified School District)
PARENTS NIGHT OUT
3rd Friday of Each Month
5:00 to 7:30 p.m.
Ages 5 to 12
Cost: $5.00 per child
Registration Codes:
    Friday, August 17th, 2018: 51733
Fall Events
PARENTS NIGHT OUT
Friday, September 21st, 2018
5:00 – 7:30pm
Cost: $5.00
Registration Code:  55193
The night both parents and kids look forward to. Parents, are you yearning for some alone time? Kids, want to have some fun on a Friday night? Well, Parent's Night Out is for you!
FALL FESTIVAL
Friday, October 26th, 2018
6:00 to 7:30pm
Free Event
Festival includes: Prizes, jumper, games, face painting, crafts and more!
Youth Programs
GAME ROOM
Open during Recreation Center hours
All Ages
FREE
Come & play our variety of games! We have pool, table tennis, foosball, air hockey & various board games. *Must have a photo ID to check equipment out.
ARTS & CRAFTS
Tuesdays from 4:00 – 5:00pm
Ages 5 – 17 years
FREE
Registration Code: #55184
Children will create and make fun art projects in a relaxed atmosphere.
PLAY PS4
Mondays from 4:30 – 6:30pm & Fridays from 3:30 – 5:00pm
Ages 8 – 17 years
FREE
Registration Code: #55186
Come play PlayStation4!  We have FIFA, NBA2K, & MADDEN for our teens to enjoy.
COOKING & BAKING CLASS
Thursdays from 4:45 – 5:45pm
Ages 8 – 17 years
FREE
Registration Code: #55185
Youth will learn how to prepare easy snacks with hands on activities, food preparation & cooking.
LEGO CLUB
Wednesdays from 1:30 – 3:30pm
Ages 5 – 17 years
FREE
Registration Code: #56157
This is a program where children will be given the opportunity to imagine, create and build a variety of Lego projects. Free play, guided activities & contests will be included in our class.
HOMEWORK CLUB
Mondays & Wednesdays from 3:30 – 4:30pm
Ages 8 – 17 years
FREE
Registration Code: #55195
Work on your homework in a quiet space. City staff will assist as needed. Earn a ticket each day you participate in the Homework Club. At the end of the month there will be an Opportunity Drawing for cool prizes!
YOUTH CERAMICS
Tuesdays from 5:00pm - 6:00pm
Ages 8 – 15 years
Cost: $5 per month
Registration Codes:
September #56154
October #56155
November #56156
Adult Programs & Fitness Classes
ADULT CERAMICS
Fridays from 5:00 - 7:00pm
Ages 16 & up
Cost: $10 per month (Fee includes: 2 projects per month, materials and firing)
Registration Codes:
September #56151
October #56152
November #56153
PILATES CLASS
Thursdays from 5:30 – 6:30pm
Ages 18 & up
FREE
Registration Codes:
September: #55191
October: #56152
November: #56153
YOGA CLASS
Saturdays from 9:30 – 11:00am
Ages 18 & up
FREE
Registration Code: #55192
Register for programs in person at Adams Recreation Center or register online at: www.SDRecConnect.com
Current Special Events and Activities
Fun for one, Fun for all! Check out your local recreation center's program guide for more details.
BookNook
The BookNook program is a "take a book, leave a book" gathering place at your favorite recreation center. Share your favorite literature and stories with others.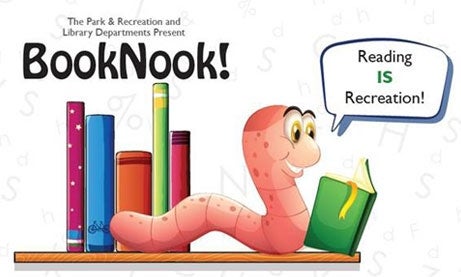 ---
History of the Center
The Adams Recreation Center property was acquired in 1961 and the facility was built in 1987.
---
Directions and Bus Route
From Interstate 15 take the Adams Avenue exit and proceed to Adams Avenue. Turn left. The recreation center is on the left, on the corner of Adams Avenue and 35th Street.
The center is accessible by bus via 

SDMTS Route 11.