The Bells: California's First Family of Golf Course Design
The Bells: California's First Family of Golf Course Design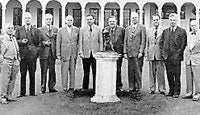 While literally hundreds of golf course architects have designed or redesigned courses in California, few have had the lasting impact of William P. and William F. Bell.
William Park Bell was born in 1886 and moved to California as a young man in 1911 where he served as caddiemaster at Annandale Golf Club and then greenskeeper at Pasadena Golf Club.
Bell, Sr. went on to serve as a construction superintendent for Willie Watson and George Thomas, Jr. before his eventually stepping up to golf course architecture on his own. And while he spent his first years as a course architect collaborating with Thomas on his great designs of the 1920s, (including the Bel-Air, Riviera and Los Angeles country clubs), Bell also designed a number of courses on his own during that time.
From the 1930s forward, Bell (also known as Billy Bell) was one of the West's most prolific course architects. Among his most significant designs were the La Jolla Country Club, both courses at Brookside Golf Club in Pasadena, and the San Diego Country Club. And although it's design has often been credited as the work of Max Behr, officials recently concluded it was Bell, Sr. who was responsible for the design of the Hacienda Golf Club.
During World War II, Bell was a turf consultant to the U.S. Army Corps of Engineers. After the war, he was joined by his son William Francis in the family design business, William P. Bell and Son.
William Francis Bell graduated from the University of Southern California before joining his father in the post-war years. Bell, Jr. (often called Billy Bell, Jr.) and his father collaborated on a number of well-known courses, including the Bakersfield and Newport Beach country clubs.
Billy Bell died in 1953, leaving behind his vision for the design of Torrey Pines. Billy Bell, Jr. went on to make that vision a reality and oversaw the course's creation in the late 1950's. A prolific designer in his own right , William F. created an impressive number of Southern California's best-known layouts, including the Sandpiper and Industry Hills golf clubs, as well as the Bermuda Dunes Country Club.
1984 marked Billy Bell, Jr.'s passing, but not before having contributed to the legacy of California's First Family of Golf Course Design.