Torrey Pines Golf Course History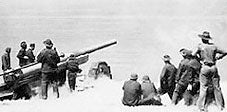 Camp Callan
Before it was a world class golf facility, the land that would become Torrey Pines Golf Course was Camp Callan, a military training center. With the advent of World War II, the U.S. Army leased 750 acres of Torrey Pines Mesa from the City of San Diego for training purposes.
The Camp was created as an anti-aircraft artillery replacement training center. It extended from the southernmost boundaries of Torrey Pines Park towards the Muir Campus of UCSD. In return for an occupational permit to use the lower portion of the park, the military had to guarantee that no part of the park would be damaged. The park itself was kept open to the public. The camp opened during January, 1941, and closed November, 1945. The buildings were torn down and used for lumber to build homes for veterans.
Windswept Vision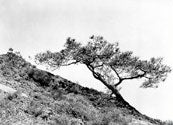 Before his death in 1953, legendary course architect William F. Bell, Sr. had envisioned the design of a wind and sea swept golf course that would afford golfers both rugged play and breathtaking surroundings. A special city election in 1956 resulted in about 100 acres of what used to be Camp Callan being set aside for the construction of a public golf course, with the rest of the land given to the State of California. Before the decade was out, Bell's son, William F., would ensure his father's vision was realized by overseeing the completion of the North and South courses at Torrey Pines on that 100 acres.

Rees Jones
In the spring of 1999, the City of San Diego Parks & Recreation department began a five-year program of planning and funding capital improvements to the Torrey Pines and Balboa Park golf courses. The desire was to improve the quality of the Torrey Pines courses and thus attract a better quality field for the annual PGA Tour event. Each of the major golf associations recommended world-renowned designer Rees Jones.
Rees Jones has restored courses for major championships, including PGA Tour, USGA and PGA of America competition courses. Part of Rees Jones reputation is that he improves the course, but leaves original layout intact out of respect for the original course architect.
Torrey Pines' South course was selected to be first of two courses restored because it serves as the featured course for the Buick Invitational. The restoration included moving four green structures and adding ten new tees to lengthen the course from just over 7000 yards to nearly 7600 yards.
Rees Jones and his team provided an incredibly competitive layout for the pros, incorporated the breathtaking beauty of Torrey Pines, and gave the golfing public a fair and memorable course to enjoy year around.