Check Out Nature Backpacks
Check Out Nature Backpacks are a jump-start to getting into nearby nature. The packs can be borrowed from the library like a book and include field guides, activity books, binoculars, bug kits, a water bottle, first aid kit, compass, and more. The packs can be borrowed at seven participating branches or by placing a
reserve request
to have one delivered to another San Diego Public Library location.
Participating locations:
Reserve a Check Out Nature Backpack
---
How To
Borrowing - The packs can be borrowed by child and adult patrons. They're checked-out for three weeks and can be renewed up to five times if there are no reserve requests to be filled.
Returning - Please return packs to the location indicated inside or to the library where you checked it out. You're welcome to keep the included water bottle, whistle, and Wildlife Explorer activity books after use.
Missing items - Fees are assessed for lost or damaged items. Library loan policy is the same for Check Out Nature Backpacks as for books. The packs have a $50 value.
---
What's Inside?
Survey – please complete, it helps us improve this program. Find copies on the reverse of this pouch.
Binoculars – first, use the 'fold' in the binoculars to adjust the distance between the eyepieces; next use the big focus dial in the center to focus your left eye on something; last, use the ring on the right eyepiece to adjust for your right eye.
Bug observer and magnifying glass – catch bugs that you find and watch their activity, but please return them to the land when you're done.
Ruler – if you keep field notes, measurements tell you which place had the biggest caterpillars.
Compass – orient yourself on trail maps.
First aid kit – cuts and injuries can happen when you're exploring.
Hand sanitizer spray – clean your hands before eating outdoors and when your adventure is done.
Guides (contents listed on pouch) – What bird was that? What kind of shrub?
Wildlife Explorers workbooks and Local Activities – activities for getting the most from your adventure.
Water bottle – always bring water.
Whistle – if you need help.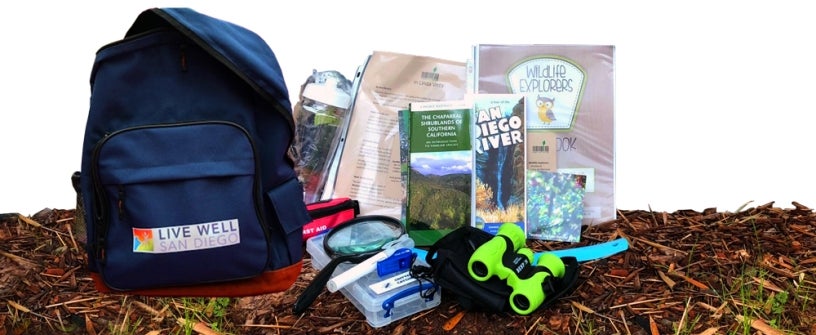 Before You Go
Fill your water bottle! It's easy to become dehydrated. Bring enough water. Snacks too!
Put on sunscreen.
Where To Go?!?
Your pack may contain a page of local activities. You can also use www.getoutsidesandiego.org to find all the parks and protected nature spaces in San Diego County. See which ones have hiking, fishing, camping, play areas, or 16 other recreation types. The website works on mobile devices.
---
Partners
Check Out Nature Backpacks are the product of a partnership between San Diego Public Library and the following: