La Jolla/Riford Library IDEA Lab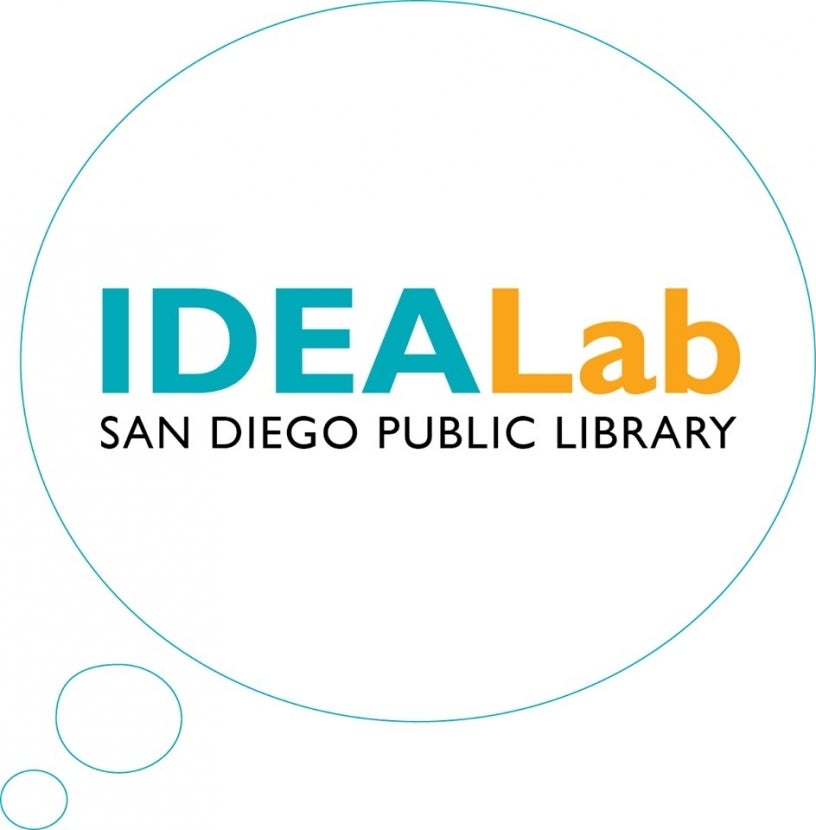 La Jolla/Riford Library IDEA Lab
7555 Draper Avenue | 
La Jolla
,
CA
92037
Phone: 858-552-1657
---
Bio Lab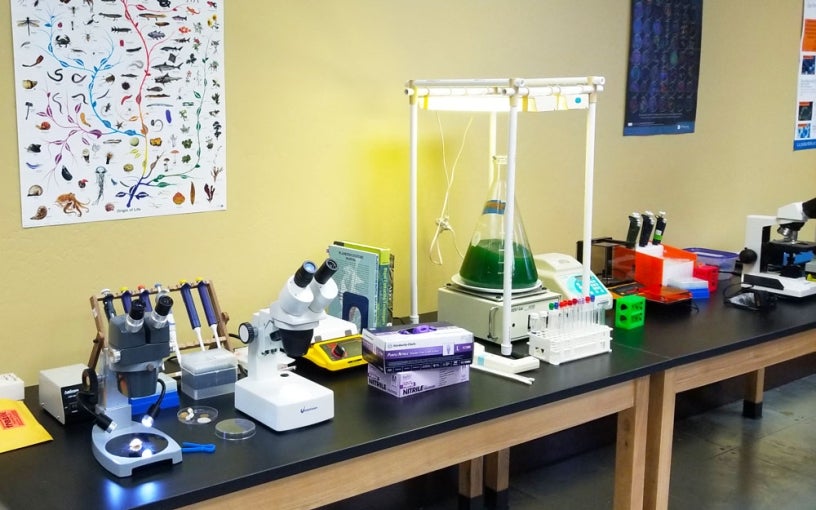 Unique among libraries, ours is a fully functioning Life Science Bio Lab. The public can visit and perform simple experiments using the lab's equipment. The Bio Lab is currently open during the one or two workshops held each month and by appointment.
3D Lab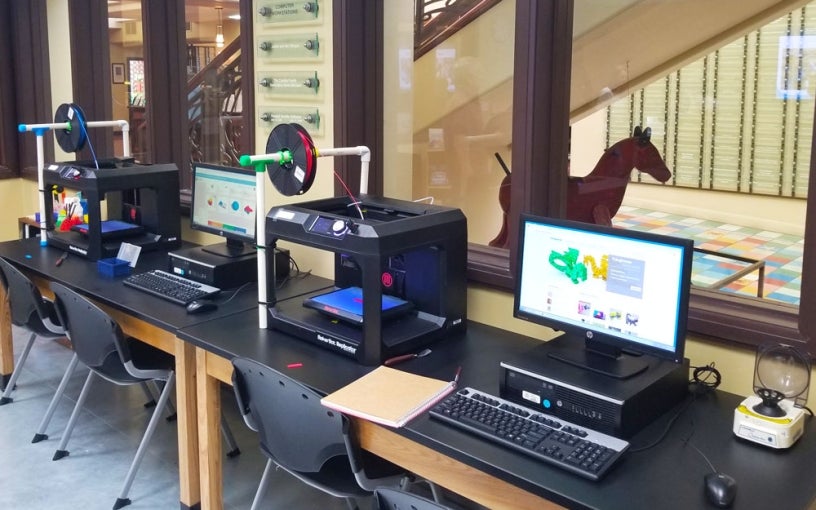 The 3D Lab is a volunteer-run maker space with 3D printers. Patrons can bring their own design for printing or use our computers to create simple designs. We ask that projects not take more than two hours to print. Subject to availability.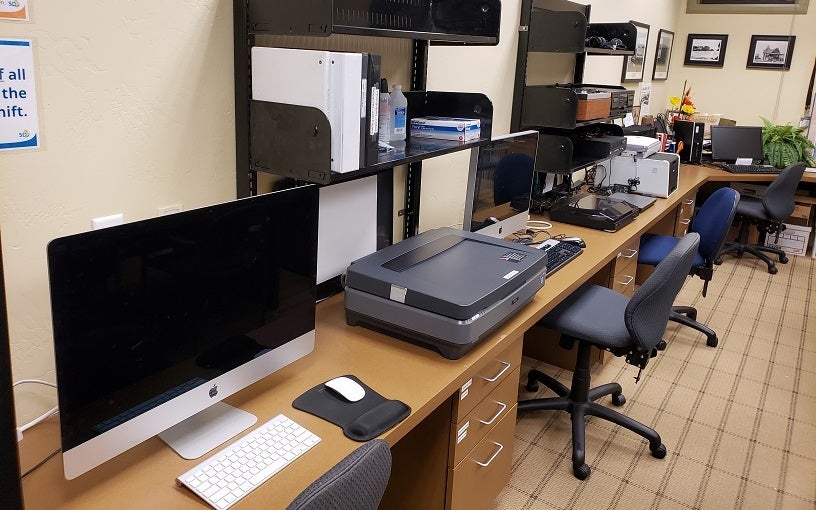 The Digital Memory Lab offers two transfer stations, with each station offering different transfer formats. You can book a session by format and select the appropriate time you need for the transfer. Please note most transfers will happen in real time.
Life. Science. Your Library...Your IDEA Lab
The IDEA LAB at the La Jolla/Riford Library is open to "any member of the community who is curious about science or has an idea they want to try out." Those are the words of Callen Hyland, a Senior Research Scientist at the University of San Diego and one of the lab's passionate volunteers. Since the Idea Lab's grand opening on May 25, 2019, volunteers and patrons have made excellent use of the signature space. The lab has three main aspects—a community biology lab, a 3D printer lab, and two brand new Mac computers equipped to edit digitized photos and videos.
Did You Know?
The La Jolla/Riford Library boasts what is quite possibly the first biology lab inside a public library anywhere in the world. It contains everything required for the majority of molecular biology techniques, such as a thermal cycler, gel electrophoresis, and centrifuge. Thanks to the camera connected to one of the lab microscopes, students can view their slides up on the TV or on a computer screen, take images, and conduct more in-depth analysis of microscope slides.
At the new space's grand opening, Congressman Scott Peters bestowed it with a congressional proclamation! As he put it, the lab is "a reflection of the bio-tech industry in La Jolla and makes emerging technology accessible to anybody."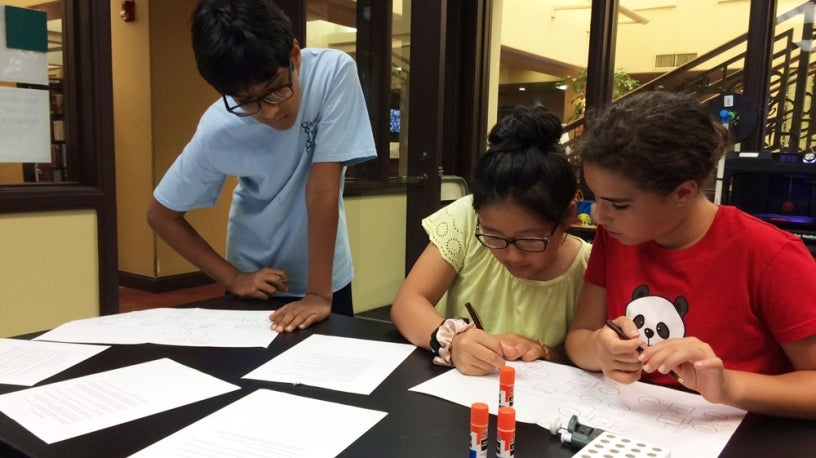 Projects
Summer Camp
The first summer camp at the bio-lab was a Hands-On Genetic Modification workshop aimed to teach children and their parents about cells, DNA, DNA replication, and PCR. These experiments were completed with a bacterial transformation (introduction of foreign DNA), which caused the bacteria to glow when exposed to UV light.
In the past, the La Jolla Riford Library has helped with the La Jolla Cove Microbial Diversity Project and is 3D Lab Partners with Cabrillo Monument.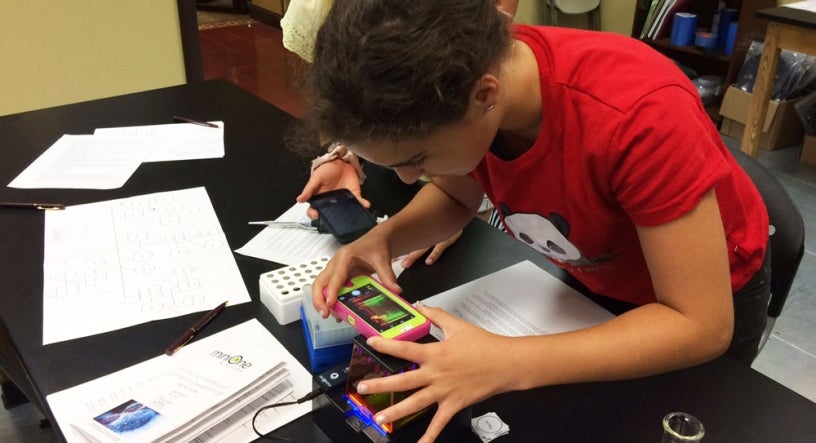 ---
La Jolla Cove Microbial Diversity Project

La Jolla Cove is an iconic swimming beach popular with tourists and locals. Known for its abundant marine mammals, sea birds and fish, and its neighboring busy urban area, the Cove is a microcosm for the complex interactions between humans and wildlife.
Although La Jolla's marine wildlife is famous, the micro-organisms that populate the water are a mystery. San Diego County routinely tests the water for a small number of bacterial species that are associated with sewage pollution. However, this is certainly just scratching the surface since ocean water is a complex ecosystem with potentially millions of diverse types of bacteria.
---
3D Lab Partners with Cabrillo Monument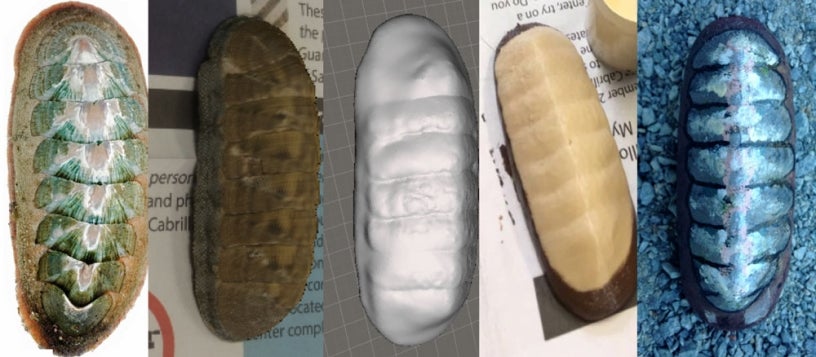 The La Jolla Library, the Scripps Institution of Oceanography, and the Cabrillo National Monument collaborated on 3D Cabrillo a multifaceted educational resource and experience available to educators both near and far.
Utilizing a special imagining program to create biomodels of many of the prominent organisms found in the Rocky Intertidal Zone of Cabrillo Monument, the participants were able to connect nature and technology. Free downloadable versions of these models are available to the public on their website at the
3D Cabrillo Biomodel Library
. These models can be produced on any 3D printer, such as those available through the San Diego public library system.
The goal of this initiative is to highlight the public's important role in awareness and stewardship of our public lands, a tenant inherent in the very mission of the Park Service. By connecting nature and technology, they look to foster excitement in the next generation of environmental stewards.
Lab Policies
3D Lab
The 3D Lab is a learning facility to teach 3D design.
Priority for self-designed projects.
3D print jobs must be limited to a maximum of 2 hours.
Limit 1 print job per week.
Please stay with your print job.
Do not leave it unattended.
A registered volunteer must be in the lab at all times.
Please respect the rules of conduct of the library.
---
Bio Lab General Safety
Never work in the lab without a volunteer or staff member present.
Know the locations of fire extinguisher, first aid kit, chemical spill kit, and emergency wash facilities.
Never work with a chemical unless you understand all of its properties and potential hazards.
Always wear long pants and closed toed shoes when working in the lab.
Tie back long hair and remove dangling jewelry.
Wear gloves, lab coat, and goggles when working with hazardous chemicals or where there is a splash hazard.
Do not eat, drink, apply cosmetics or contact lenses except in designated clean areas.
Do not wash lab glassware in sinks or store lab materials in refrigerators that are also used for food.
Always wash hands when leaving the lab.
---
Digital Memory Lab
Age Policy - The Digital Memory Lab is designated for use by people ages 13 and older. Children ages 12 and under must be accompanied by a parent or legal guardian at all times. Parental consent is required for ages 17 and younger.
Release Form
 - A release form is required to use the Digital Memory Lab. Download and sign your 

Release Form
 before coming to your session or fill one out at the lab.
Food and Beverages - Food and drink are not allowed in the Lab. Food and drink can damage our media equipment as well as attract pests that can damage materials.
Saving Your Files - Please save your project files on your own external drive. All Digital Memory Lab computers are reset nightly so files cannot be stored on the lab machines without risk of losing data.
Storage of Personal Items - Hard drives or other personal items needed for saving or transferring files cannot be stored at the Digital Memory Lab. Materials brought to the lab for scanning or analysis must remain with you at all times.
Reserving the Lab
 - The Digital Memory Lab is open for appointments. Only one session per user per day. Reservations can only be held for 30 minutes maximum, thereafter, your station will be released. To book an appointment, click 
here
.
Equipment
Bio Lab
Upright compound microscope
Stereo zoom microscope
Refrigerator
Microwave
Incubator/oven
Thermal Cycler
Mini hot plate/stirrer
Mini Centrifuge
Menchtop microcentrifuge
DC power supply
Double Wide Midi-gel unit
Mini gel unit
Vortexer
Shaking water bath
Digital balance
Gel transilluminator
Microscope eyepiece digital camera
Wooden pipette stand holds 12
Pipettors (1-10 μL to 200-1000 μL)
Erlenmeyer Flasks (50 mL to 1000 mL)
Glass 20x150 test tubes & rack
Glass beakers (50 mL, 250 mL and 600 mL)
Glastic beakers (10 mL to 1000 mL)
Glastic Graduated Cylinders
Plexiglass algae culture display box
Microscope slide holder
Funnels
Various Eppendorf and PCR tube racks
Darkfield stops set
3D printed microscope
Test tube holder for water bath
Eyepiece adaptor for cell phone
---
3D Lab
Two 5th generation Makerbot Replicator Desktop 3D printers
Two Mac computers – equipped with Adobe Creative Cloud for editing photos and videos
---
Digital Memory Lab - Accepted Formats
VHS & VHS-C
DV & miniDV
Betamax
Video8, Hi8 & Digital8
8mm and Super 8 Film
8-track audio tape
Audio Cassette
Reel to Reel Audio
Photos
Slides
Negatives
Vinyl Record
3.5" Floppy
Support the Lab
By supporting the
Friends of La Jolla Library
you can help support La Jolla/Riford Library Bio Lab projects, workshops, and after school programming and mentoring for science fair projects. To discuss naming rights for our Idea Lab, please contact us.
---
Volunteer Opportunities
Anyone interested in volunteering in the IDEA Lab, please apply for the STEAM Coach position here.
For volunteer opportunities at other library locations, please click
here
.