Career Online High School
About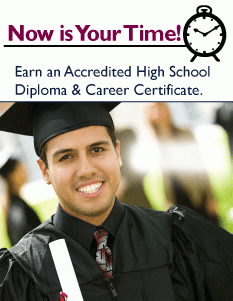 The San Diego Public Library's Career Online High School (COHS) offers adults the opportunity to earn an accredited high school diploma and career certificate online.
The library's program provides a limited number of scholarships to qualified adult learners who are looking to expand their career opportunities, prepare for workforce entry or continue their education.
To be considered for the program, applicants will successfully complete an online self-assessment and prerequisite course, followed by an in-person interview.
Once enrolled in the program, COHS pairs each student with an online academic coach, who provides the student with an individual career path, offers ongoing guidance, evaluates performance and connects the student with the resources needed to master the courses. Students will be given up to 18 months to complete the program.
Take a look at the timeline for

Career Online High School - Steps For Student Success
Congratulations COHS Graduating Class!
Want To Help Support Scholarships?
You can give a motivated student a second chance at success by sponsoring a scholarship. See more information about sponsoring a scholarship.
Why This is Such a Great Program
Kirk, a 52-year-old man, who is a Mission Valley resident and went to 10th grade in high school reflected, "I'm the only one of all my brothers and sisters who didn't graduate from high school. I want to do this because this is something I told my mom I would do. Even though she's not alive today, I want to still keep my word."
Cindy, a 49-year-old woman from Mission Hills, who completed 11th grade said, "I've got the experience, but I don't have a diploma. I can't get promoted in my job unless I get a diploma. I am so eager to get started, because this opens up more opportunities to me."
Frequently Asked Questions
Learn More
To learn more about this program, please email [email protected] and our enrollment team will contact you.