Join Our Team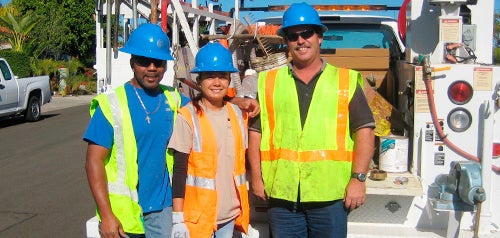 For a great career, join the City of San Diego's Public Utilities Department! We are currently filling several positions to join a diverse team of professionals that is working to bring quality services to our citizens. We are currently hiring:
What does the Public Utilities Department do?
The Public Utilities Department provides water services for 1.4 million City customers and wastewater services for 2.2 million City customers and regional partners. Learn more about what we do.
The City offers amazing benefits, including:
---
To be considered for a classified City position, you must be on the official list of qualified candidates for that position. Lists are typically opened one or two times per year for no more than a few weeks at a time and are used to fill positions throughout the year as they become available.
Three steps to getting a job with the City:
To be notified when the list you're interested in opens, please submit a 
job interest card
. For Public Utilities-related positions, please select the following categories: "Clerical and Data Entry," "Customer Service," "Engineering," "Public Works," "Recreation," "Utilities," "Wastewater" and "Water Treatment," and click "Subscribe." Please note, Job Interest Cards will NOT be sent out if a job classification is being recruited for as a Promotional job opportunity.
Once you are notified the list has opened or see the job open on
governmentjobs.com
, please allow sufficient time to complete the application and submit any required documents before the application period closes.
If your application has been accepted, you will be notified by the City's Personnel Department. When a City Department has a vacancy for that position they will contact you, usually via email. The Department will specify the position(s) being filled and typically request that interested candidates submit a letter of interest and resume to be considered for an interview(s) for the position.
For more information about the City of San Diego's hiring process, check out these FAQs.