Special Events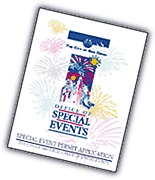 Special Event Permit Application
$150 permit application fee
$10 per business day late fee
A Special Event Permit is required for an organized activity that incorporates the use of:
City public streets, sidewalks, rights-of-way; and/or
City public parks or other City public property; and/or
Outdoor private property including parking lots, only when the property is part of a Special Event Venue that includes City public property and permission has been received by the property owner/manager (for example, a parking lot used as part of a street festival venue).
Examples of activities that require a Special Event Permit include festivals, parades, runs/walks, and farmer/art markets.  
You may download the Citywide Special Event Permit Application using Adobe Acrobat. There is a $150 permit application processing fee 60 days or more prior to the event day and an additional $10 per business day late fee for applications received less than 60 days prior to the event date. It is strongly recommended that you submit your permit application at least 120 days prior to the proposed event date. Your completed application and any required attachments must be submitted to:
Special Events & Filming Department
Civic Center Plaza
1200 Third Ave., Suite 1326
San Diego, CA 92101
619-685-1331 (office)
619-685-1334 (fax)
Special Event Planning Guide
The Special Event Planning Guide has been developed to guide you through the Citywide Special Event Permit Process and to provide you with guidelines and requirements associated with special event management in the City of San Diego. This is an important reference guide as you develop your event plans and complete your permit application.
Special Events Storm Water and Recycling Compliance Videos
Special Event Planning Guideline Topics
Key topics found in the Special Event Planning Guide have been identified and created in a printer friendly PDF format.
Other Special Event Related Permits
There are a number of different special event related permits that may be issued independent of a Citywide Special Event Permit or may be required in conjunction with a Citywide Special Event Permit. The proposed event venue, activities, components, attendance, and unique circumstances of the event are contributing factors to the final determination of the required permit types.
Following is a summary of the most common permits types you may be required to obtain if you are planning a special event or an activity associated with a special event.