Potholes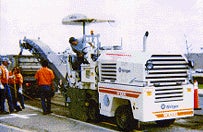 Potholes - no one likes them. They seem to pop up by magic almost overnight. In reality, potholes are created in many ways. The most common way is when water seeps into cracks in the surface of the road. Then, combined with the vibration of the tires over the cracks, this causes the asphalt to fail. That is why there are more potholes after it rains.
Vehicular traffic can cause the subsurface materials to move, generating a weak spot under the street.  And every time that a vehicle travels over it, the damage grows until the new pot hole is formed.
The Streets Division repairs more than 30,000 potholes per year using materials such as a hot patch compound and bagged asphalt. The Division recently implemented a regional approach for patching potholes. This approach allows pothole crews to focus attention in neighborhoods in a single council district. For an entire day, crews repair potholes reported to the City any new potholes they find in the district. Pothole crews visit each council district two times per month. Crews do their best to spot potholes wherever they travel and welcome local residents to report potholes when they see them.
To report a pothole, please call 619-527-7500 or use the online Service Request system.