Resurfacing and Slurry Sealing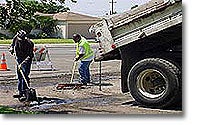 The City of San Diego has a network of approximately 2,800 centerline miles of streets. In making the decision on which streets to include on resurfacing contracts citywide, the City of San Diego relies in part on a Pavement Management System to generate an Overall Condition Index (OCI) for every section of roadway in the city. Pavement condition data such as distress (cracking), rutting, and roughness are collected on all streets and input into the Pavement Management System to generate the OCI. The OCI is then used in conjunction with other variables such as traffic volume, type of road, maintenance history, other capital project conflicts and allocated funding levels to prioritize a list of streets to pave.
Asphalt Resurfacing consists of installing a brand new layer of asphalt on top of the existing street surface at a thickness of one to three inches. Streets are ground down (milled) at the curb line before resurfacing so asphalt will not build up at the edge of the gutter.
Slurry Seal is a pavement preservation method consisting of an asphalt emulsion, sand and rock which is applied to the street surface at an average thickness of ¼ inch. This cost effective maintenance treatment extends the life of streets already in good condition.Slurry seal provides a durable riding surface and addresses any existing surface distresses on streets in generally good condition.
At any time, citizens may call our Street Service Request line at (619) 527-7500 to report potholes or other hazardous street conditions which need to be repaired. These requests can also be submitted online.

Street Asphalt Overlay History