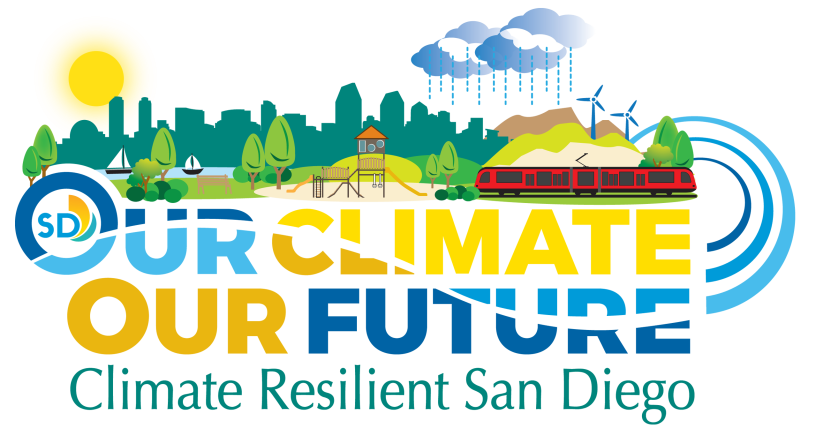 Climate change and associated hazards pose significant risks to the City of San Diego. To identify hazards of concern and better understand the local impacts of climate change, the City completed a Climate Change Hazard Vulnerability Assessment in February 2020.
Now, the City is in the process of developing Climate Resilient SD, a plan to ensure residents will continue to thrive in a changing climate.
Scroll through to learn about climate projections and provide feedback that will help inform the goals and priorities of the Climate Resilient SD plan.
Climate Change Hazards
There are four primary climate change hazards that pose a risk to the City:
Sea Level Rise
Flooding and Drought
Extreme Heat
Wildfires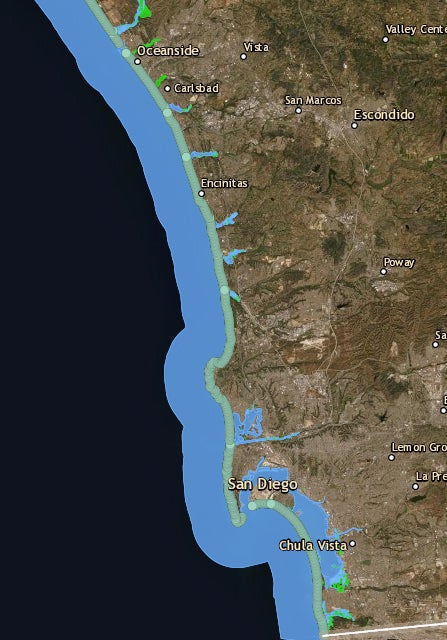 Sea Level Rise
Climate change is accelerating sea level rise. During the 20th century, sea levels rose 0.71 feet in San Diego. By 2100, San Diego could experience another 3.6 to 10.2 feet of sea level rise.
Sea level rise will mean more flooding and faster rates of erosion along the coastline.
Without any action, what might this mean?
Rising seas could result in reduced beach access and economic impacts for San Diego.

Flooding and Drought
There is expected to be more variability in rainfall from year to year and more intense transitions between droughts and flood events.
Areas of San Diego already flood when there are heavy rainfall events. As rainfall events become stronger in the future, the areas affected by flooding are projected to increase.
Drought events have increased in intensity throughout California in recent years. While droughts will always be cyclical, they are projected to become more frequent and more dry.
Without any action, what might this mean?
Extreme precipitation events could mean significant flooding. Drought events could increase the risk for wildfires.

Extreme Heat
San Diego is known for its pleasant temperatures - in the past, extreme highs have occurred about four days a year.
Climate change will mean not only more hot days each year, but the hottest days are projected to get hotter and more frequent. By the 2040s, the average daily high could be 5 degrees Fahrenheit higher than it is now.
Without any action, what might this mean?
Extreme heat days can pose health risks, particularly if the temperatures do not drop at night, limiting the body's ability to cool down.

Wildfires
Climate change will likely increase all the key drivers of wildfires - high temperatures, dry conditions and flammable vegetation. San Diego is projected to experience wildfire risks to be of equal or greater severity than in recent decades.
Without any action, what might this mean?
In addition to the potential loss of life and property, wildfires may result in erosion and landslides, reduced air and water quality, and loss of native biodiversity.
Help Us Plan for a Climate Resilient SD!
The City of San Diego is committed to planning for a more equitable, sustainable and healthy future where communities are prepared for and resilient to the impacts of climate change.
How we adapt to climate change will affect all San Diegans, and can even improve our quality of life, allowing everyone to thrive.
As we move forward with this plan, we will continue to share more information and collect more public input. Receive updates by filling out the form below.