Transit Tuesday
Bike
View Available Bike Racks
Want to get riding but not sure where to park your bike? Plan your trip with the help of the City's bike rack map. This map will be updated as more bike racks are installed.
Bikeways Map
With more than 1,000 miles of bikeways in the City of San Diego, getting around by bike is a breeze! Chart your ride with this interactive bikeways map.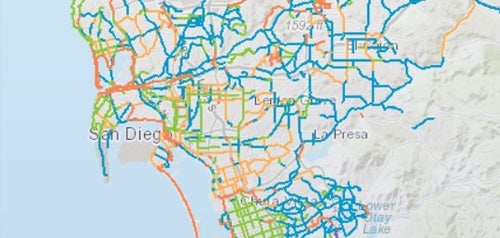 Rules of the Road
While many San Diegans realize going by bike is a cost-effective, healthy and fun way to get around, it might seem intimidating to try without knowing rules of the road.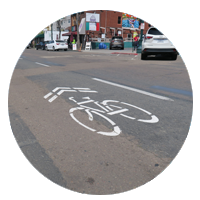 Here are a few fast facts to help you get ready to hit the road:
First come, first served: yield to those who get there before you or whose traffic signals dictate they have right of way
Be predictable – ride in a straight line
Always ride in the same direction as other traffic, usually on the right-hand side of the road. It's OK to be on the left side of a one-way road
Stop lights and stop signs apply to bicyclists, too!
When turning left, move cautiously into the far-left or left-turn lane. Don't turn left from the right-hand side of the road.
You'll see sharrow signs when a lane is too narrow for bicyclists to pass safely on the right. When you see this, discourage unsafe passing by riding toward the middle of the lane.
Be cautious of train/trolley tracks and when clear cross at a 90 degree angle (never parallel)
Wearing a helmet is always smart
If you're riding a personal bicycle, invest in a good lock: U-locks are safe and sturdy. If you plan to bike in dark conditions, use a front white light and rear red light – it's the law.