Daily Permits and Fees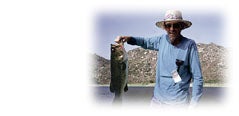 At El Capitan Reservoir, each person (ages 8 years or older) entering reservoir property (even if not fishing or skiing) is charged a daily recreational use fee and launch fee (if launching a boat other than a kayak). On Sundays (water-contact-only day) that would be the water-contact fee (see fees below).
Please see What's New for days and hours of operation.
Fishing
Adults - $8
Youth (ages 8 to 15 years) - $2.50
Senior (65 years or older) - $4
Children ages 7 years and under - free
Boating
Private Boat Launch - $7
Private Kayaks (single) with one person (all or part of day) - $2 (except at El Capitan Reservoir*)
Private Kayaks (double) with one or two persons (all or part of day) - $7
Private Canoes - $7
* (at El Capitan Reservoir there is a per person charge of $8 for adults or $2.50 for youth ages 8 to 15 years with no additional charge to launch a private kayak)
State of California Fishing License (effective Jan. 1, 2014)
(Annual) $46.44 - (Two-Day) $23.25 - (One-Day) $14.86
(call concession to check for availability.)
Water Contact - El Capitan Reservoir only
Personal Watercraft (jetskis, etc.), wakeboarding, waterskiing, tubing, kneeboarding
Adults - $10
Youth (ages 8 to 15 years) - $5
Turkey Hunting
Rowboat and Blind Reservation - $20
Hunting Permit (Adult) - $10
Hunting Permit (Youth ages 8 to 15 years) - $5
Waterfowl Hunting
Rowboat and Blind Reservation - $40
Hunting Permit (Adult) - $20
Hunting Permit (Youth ages 8 to 15 years) - $10
NOTICE:
Seasons, fees and operating schedules may be subject to change.
Reservoirs are open from sunrise to sunset on operating days only and are closed otherwise.
In addition to a daily City recreation permit a state of California fishing license or state of California hunting license is required as appropriate.
In addition to the "Rules and Regulations" posted at each reservoir all state and federal regulations must be observed at all times.
INFORMATION:
For your convenience a recorded message detailing current activities, schedules, fishing and hunting results is available at all times by calling (619) 465-3474 (465-FISH).
Inquiries regarding overnight accommodations and other visitor services/activities should be directed to the San Diego Tourism Authority (619) 236-1212.
Campgrounds and related information are provided by San Diego County, (858) 565-3600; state of California, (619) 220-5422; and federal, (619) 673-6180 agencies.
Information on state of California licenses, limits and regulations is available from the California Department of Fish and Wildlife: (858) 467-4201.
For additional information, call the recording at (619) 465-3474, contact the City of San Diego Public Utilities Department's Reservoirs and Recreation Program office at (619) 668-2050, or email
[email protected]