Location
San Diego is a Southern California city, located on the Pacific Ocean and the U.S.-Mexico border. Because of its location, San Diego is perfect for companies interested in international markets, especially those in Latin America and on the Pacific Rim. Below are distances from San Diego to some cities in those markets.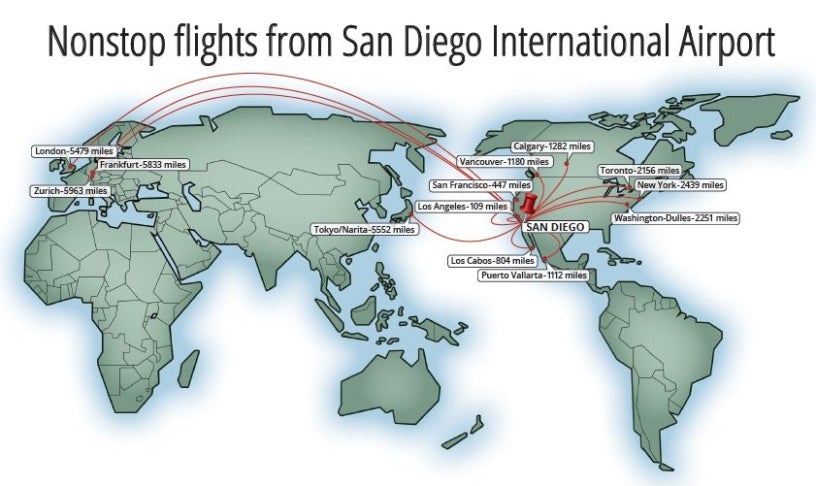 Distance to
Miles
Mexico
Tijuana (international border)
17
Ensenada
87
Mexico City
1,443
Central and South America
Panama City
2,910
Caracus
3,532
Lima
4,073
Buenos Aires
5,986
Santiago
5,469
Rio de Janeiro
6,206
Asia/Australia
Tokyo
5,590
Hong Kong
7,347
Manila
7,404
Sydney
7,509
Bangkok
8,379
Singapore
8,885
Transportation
Buses, trains, freeways, ferries and trolleys make travel accessible and economical for commuters in San Diego. And the City is well-connected with the rest of the country and the world through highways, rail, sea and air. The City of San Diego adheres to "Transit Oriented Development" guidelines to discourage urban sprawl and to promote the creation of places for people instead of automobiles. The guidelines call for the development of places that are designed to be pedestrian friendly, are connected to transit, and have a mix of uses.
The City works with local agencies to provide transportation systems for its residents and visitors. Bus and trolley service, as well as its commuter rail stations, in the City are served by the Metropolitan Transit System. The San Diego Airport Authority operates San Diego International Airport and the maritime activities of San Diego Bay.
Streets and Highways
San Diego has a well-developed and relatively uncongested highway system. Four major interstate freeways and six state highways serve the City. The average daily round-trip commute ranks fifth best compared to the 20 largest metropolitan areas in the nation. Since 1980, more than 1,000 miles of streets and highways have been added to the San Diego region.
The City of San Diego mean travel time to work is 22 minutes, which ranks 17th out of 122 cities in California with a population over 65,000. San Diego has a well-developed highway system. Four major interstate freeways and eight state highways serve the City.
Mass Transit
The light rail San Diego Trolley system operates over 53.5 miles on three routes with 53 stations on the Blue Line, Orange Line, and Green Line. The trolley connects the City with East San Diego County, San Diego State University, Qualcomm Stadium, Old Town, Downtown, and the Mexican Border. A new trolley extension is under construction to extend service to Bay Park, La Jolla, UC San Diego and University City.
Passenger rail service is provided by Amtrak, Metrolink, and Coaster commuter trains. Amtrak operates 10 trains to San Diego. The Coaster operates during peak hours connecting San Diego County coastal cities. More than 20 trains run on weekdays, with service on Saturdays. North County Transit District operates the east-west Sprinter light-rail train system between the cities of Oceanside, Vista, San Marcos and Escondido.
The California High Speed Rail is planned to pass through San Diego and a trip from San Diego to Los Angeles would be approximately 80 minutes.
The Metropolitan Transit System operates 29 bus routes covering 635 miles.
For additional San Diego traffic, transit and commute information, visit http://www.511sd.com.
Airport
San Diego International Airport, centrally located near downtown San Diego, accommodates daily flights to 158 cities serving an average 36,500 passengers daily, handles more than 70,000 tons of air cargo annually. Commuter flights also depart from McClellan Palomar Airport in North San Diego County. Tijuana International Airport, near the international border, is served by a number of major airlines.
Seaport
The Port of San Diego controls the maritime operations of San Diego Harbor, and has three major terminals. San Diego has a growing cruise ship operation, and cargo operations are also a major sector with produce imports from South America, vehicle imports from Germany, Japan and Mexico, and other trade operations.
Freight
Daily freight rail service is provided by the Burlington Northern Santa Fe Railway. Trains have direct connections to many major cities throughout the United States. There is also freight rail service to Mexico from San Diego.
More than 80 trucking companies are located in San Diego County providing freight, hauling or equipment services.