Photovoltaics Highlight "Green" Administration Building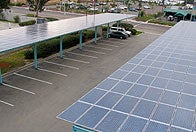 The "Green" Administration Building at Environmental Services' Operations Center is the City's First "Energy Independent" Building.
Operations Station: "Green" Energy-Efficient Facility
Photovoltaics and a previous "green" retrofit to the administration building, along with operational efficiencies, make Environmental Services' Operations Station the City's most environmentally-friendly and efficient building. The facility also houses the city's first liquefied natural gas (LNG) fueling station.
The facility was purchased in 1998 from Waste Management, Inc. to serve as a central location to centralize and combine the functions of four separate facilities located throughout the city. The main role of the station is providing vehicle servicing and fueling for Environmental Services' 170 refuse and recycling collection packers. Before the Environmental Services Department's Collection Services Division moved to this new location in the summer of 2001, the administration building was retrofitted with energy-efficient technologies.
These upgrades include the installation of a heat-reflecting "cool roof" and heat-reducing window awnings, a high-efficiency air conditioning system with programmable thermostats, and energy-saving T8 fluorescent lighting fixtures that feature daylight and occupancy sensors, and efficient electronic ballasts. Building materials such as doors were reused or recycled during the retrofit which helped divert waste from entering the Miramar Landfill.
Currently, these upgrades helped increase the energy efficiency by 38%. More than 80,000 kilowatt-hours are saved annually and about 45 tons of carbon dioxide and other greenhouse gases are diverted from the atmosphere. These savings produced an annual cost avoidance of more than $14,000.
The efficiencies stretch beyond the retrofit. The facility houses the City's only liquefied natural gas fueling (LNG) station. The refuse and recycling collection packers are equipped with a Geographical Information System (GIS), using RouteSmart software, which saves 23,000 miles a year, or nearly 10,000 gallons of fuel by optimized routing of collection vehicles. This clean air savings translates to 107 tons of carbon dioxide diverted from the atmosphere. Further savings are anticipated as the entire city is remapped from the centrally located Operations Station.