Collection Services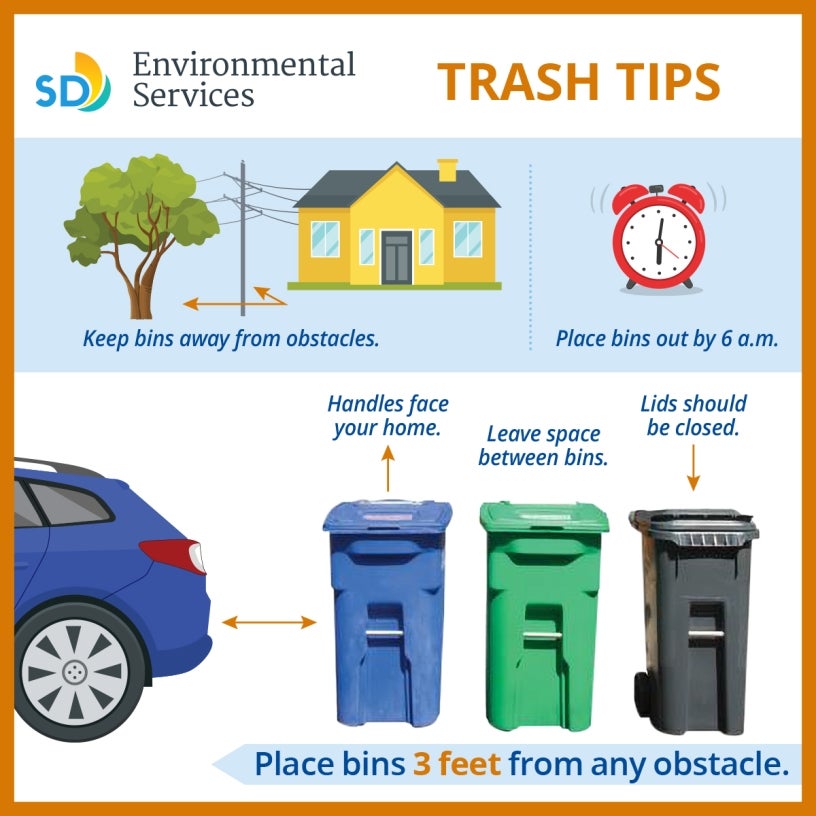 Trash is collected weekly, Monday-Friday, 6 a.m. to 5:30 p.m. The collection day depends on where you live in the City.
Trash must be set out at the curb or alleyway by 6 a.m. for pickup. To help prevent litter, bag or wrap all loose trash material before placing it in the bin. Remember to leave space between trash and recycling bins for easy access by automated garbage trucks and always keep bins at least 3 feet from any obstacle.
There is no collection of City of San Diego trash, recyclables, or yard waste on the following City-observed holidays:
New Year's Day
Memorial Day
Independence Day
Labor Day
Thanksgiving Day
Christmas Day
Informational Publications
City of San Diego What Goes Where Guides
Other Publications
Got questions? See the Frequently Asked Questions page or contact Environmental Services at 858-694-7000 or trash@sandiego.gov. 
Interested in Organic Waste Recycling, please visit sandiego.gov/organicwasterecycling.