Library NExT
Library NExT (Network of Education x Training) is a series of workshops for middle and high school students on topics including robotics, circuits and 3D modeling. Initially started as a pilot program at six San Diego libraries in 2017, it expanded to 10 locations in 2018 with plans to be offered at more City of San Diego library locations. This San Diego Public Library program is a collaboration with UC San Diego Extension and Sally Ride Science.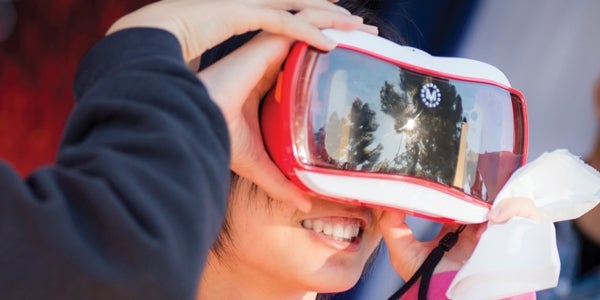 ---
---
July Programs
Messy Science
July 27, 2 - 5 p.m. | City Heights Library | Registration opens June 27,
Register Here
Level: Middle School (6th – 8th Grade)
Library NExT's Messy Science class offers hands-on learning activities, including the opportunity to design structures and test their resiliency. Students explore concepts such as tsunamis, landslides, permafrost, glaciers, and sea level rise. Learn why and how things ooze, what makes an explosion and the hidden reason why some things can spin and others cannot. Come prepared to make a mess.
---
---
Recently Offered
Python
This course will introduce students to computer programming via the Python programming language. Each class will consist of a brief lecture, followed by a self-guided demo. The course will cover basic topics in programming, such as arithmetic and Boolean expressions, string manipulation, conditional statements, for and while loops, I/O, and abstract functions. Attention will be paid to helping students develop good programming habits and code documentation. Students will be evaluated with weekly problem sets and a final project.
Independent Film Making
Books and videos can transport us into any world we want! Join us to explore the basics of video production (composition, filming and editing) and storytelling in a 3-sessions amateur filmmaking series. Collaborate with friends to make a video about you and your neighborhood using equipment that's at your fingertips – phones and tablets!
Music and Your Brain
In this Library NExT program, students explore how music affects the brain and body in physical, cognitive, and emotional ways. Learn how every person has unique connections with music yet there are many shared reacts and interactions to music. Together we explore how music relates to cultural identity, history, math and science. This class is built around musical activities and group work as students discover new ways to think musically.
Introduction to Circuits using Makey-Makey 
Do electronics and bananas go together? Absolutely! Learn how to create fun circuits using Makey-Makey circuit boards that can be expanded and accentuated with everyday items like a banana, tin foil or a bouncy ball. Science and art will collide as the technology of circuits is used to create art in the form of music, paintings and photographs.
Virtual Reality with Google Cardboard
Join the Virtual Reality technology movement that simulates experiences (like going on a roller coaster) using Google Cardboard (a Virtual Reality viewer). Work in groups to create your own virtual reality interactive tools and games and learn basic concepts of stereoscopy. Gain experience in C+ programming, 3D modeling and learn how to use the popular UNITY game engine. No prior experience with computer programming or 3D modeling is required.
Make Your Own Inflatables
Explore the fascinating world of bubbles! Discover the intersection of engineering, architecture, art and nature through amazing experiments with bubbles and inflatables. As inventors and designers we will be building our own unique constructions through the iterative design-to-build process and creating giant inflatables from ordinary plastic bags! No experience required.
Introduction to Robotics with LEGO MINDSTORMS EV3
Learn basic concepts of robotics and then build robots using the LEGO MINDSTORMS EV3 kit while using basic flowchart programming to create autonomous robots. Working in groups, compete in science instrument deployment competitions using multiple sensors on the robots. No prior experience with robotics or programming is required.
Introduction to Video game Programming with Unity
What better way to learn introductory concepts of computer science than within a video game environment powered by the popular Unity game engine as a visualization tool! Using the C# scripting language, learn code structure and syntax, conditional statements, loops, functions, data structures and write and run simple scripts. After learning how to handle user input, object collision and interface design, create your own simple video game!
Messy Science - Atmosphere
In this workshop format class we explore the beauty, mysteries and facts about our planet earth. Using tools and materials from our modern world we will re-enact some of the physics, chemistry, and biology that make earth unique in the Known Space. Hands-on activities will be punctuated with sounds of boom, crash, zip and slime! The class is configurable to different lessons each focusing on an aspect of that include topics of glaciers, volcanoes, earthquakes, landslides, permafrost, sea level rise and tsunamis. During these workshops students will design things, test things, throw things, and stomp on things. Using our newfound knowledge of our earth system we will use our imaginations to make our planet a more fun place.
---