Coastal Cliff Rescue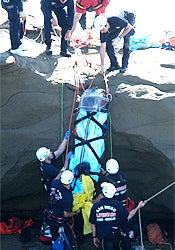 The coastal bluffs that line much of San Diego's oceanfront can be treacherous. Consequently, San Diego lifeguards respond to approximately fifty cliff rescues every year. Cliffs of as much as 300 feet of sheer or unstable terrain serve as the access and backdrop to some of the city's most popular beaches.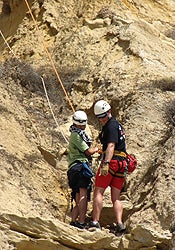 San Diego lifeguards have been involved in cliff rescue as the primary responding agency for the City of San Diego since the 1940s, and the position of Cliff Rescue Instructor has been recognized in the Lifeguard Division for the last thirty years. Lifeguard Cliff Rescue Instructors train all City lifeguards as well as many San Diego Fire-Rescue personnel in technical rope rescue. In addition, Lifeguard Cliff Rescue instructors regularly teach technical rope rescue to personnel from other public safety agencies.
Lifeguard Cliff Rescue Instructors are trained and certified in technical rope rescue and instruction by multiple public and private certifying bodies including the California State Fire Marshal, Rescue 3 International, Rigging for Rescue, Peak Rescue Institute, and other organizations. San Diego Lifeguard Cliff Rescue Instructors help put the SDFD Lifeguard division on the forefront of technical rope rescue.