River Rescue Team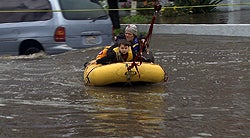 The San Diego Lifeguard Service established its River Rescue Team in 1978 to respond to emergencies created by flooding due to heavy rain. It is the task of the team to rescue people or property threatened, surrounded or entrapped by stationary or moving water. In addition to their local responsibilities, the team is assigned to the Federal Emergency Management Administrations Urban Search and Rescue Task Force 8 as a member of the flood rescue component.
River rescues are extremely hazardous incidents that require specialized training and equipment. Many preventive measures are taken prior to actual rescues to ensure that people are kept out of hazardous areas during significant rain events. Even so, the San Diego Lifeguard River Rescue team makes many rescues every year in the City of San Diego. The river rescue team also responds to mutual aid calls from other local public safety agencies.
The San Diego River Rescue Team is comprised of several full-time lifeguards who have gone through Swift water Rescue Technician level I and level II training and a majority of team members have attended instructor level training. In addition to swift water training team members are proficient in other rescue disciplines including but not limited to high and low angle technical rope rescue, SCUBA diving, flood rescue, and animal rescue, and ice rescue. River Rescue team members are also certified by San Diego Lifeguard Division as Personal Watercraft operators, and as hard hulled and inflatable boat operators.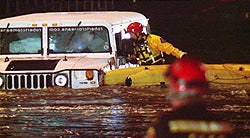 The River Rescue Team conducts yearly training for team members which includes the operation of personal watercraft in the swift water environment, hard hull and inflatable boat training in the swift water environment, and cross training with the Fire-Rescue and Coast Guard helicopters in aquatic operations.
The Team has been called upon to perform hundreds of rescues throughout the San Diego region. In 1993 alone, the Team rescued more than 195 people trapped or threatened by flood waters. In 2005, the team responded to New Orleans following Hurricane Katrina and was widely recognized for its professional response as part of the California USAR Task Force Team. In December, 2010, the team made more than 100 rescues and assists including the rescue of 60 people from an inundated hotel in Mission Valley. The Team has received commendations from the San Diego City Council, the San Diego County Board of Supervisors, the Governor of California and was awarded the Higgins and Langley Memorial Award for Outstanding Achievement in the Field of Rescue by the National Association for Search and Rescue.
Other professional swiftwater rescue teams in the Southern California region have modeled their operations from the procedures that the San Diego Team has developed. The Team continues to lead in the in the area of flood rescue in the US western region through their development of these professional standards and response capabilities.