Dolores Magdaleno Memorial Recreation Center
 

Register or view available classes

 

What's Coming

Flag Football – Powder Puff

FALL 2017
Cost: $15
Memorial Flag Football is back for boys and girls! Our rec league is perfect for laying down the fundamental skills players need to play the game of football. We will be hosting 10, 12, 14 and 16 and under boys leagues and a power puff (13-16 yrs) girls league. The S.P.O.R.T.S. Committee will be hosting the city wide tournament at the end of the league. Come join the fun!

Futsal Fridays

Fridays, 5:00 to 7:00pm
Ages 11-17
Free
Come with your team or join a team here. Open to all skill levels!

Youth Boxing

Tuesday and Thursday 5:00 to 6:00pm
Age: 10 to 17
Free
Participants will learn from experienced instructors and train with peers in a competitive, safe, clean, and fun environment. Through a well-rounded exercise regimen including cardio and boxing, your children will develop focus, self-control, concentration, discipline, manners and respect.

 

Events

Halloween Carnival – October 25th 5:00-8:00pm

Come and try your hand at a variety of spook-tacular carnival games to win absolutely terrifying prizes! Run through the Rec of Ruin Maze, Dive for Pumpkins, feel the thrill in the Swim-In and Scream Theater and survive the Haunted Library. Don't forget your costume!

Harvest Fest – November 24th 4:00-6:00pm

TEENS! Join us at the Memorial Recreation Center after school to take part in numerous seasonal games for your chance to win a whole turkey or even a whole Thanksgiving Dinner to share with the family! Afterwards, celebrate the holiday for our very first Teensgiving!

SDPD vs. Teens

Come and challenge your local police officers to a game of basketball, futsal and many other sport activities! This event is held the LAST Friday of each month and is open to teens 13-17 years old. Come enjoy music, competitive sport and so much more.

 

Activities For Kids

Movie Day for Kids

Fridays 5-7pm
Ages 12-17
Free
Join us for a movie! A great way to meet new friends and create fun memories!

Ballet Folklorico

Tuesdays and Thursdays 6-8pm
Ages 4-5
Free
Ballet Folklorico is a Mexican style dance that emphasize local folk culture with ballet characteristics. The dance class consist of exaggerated movements, and highly choreographed performances. This class is great for beginners to intermediate students.

Memorial Teen Center

Monday – Friday 3-7pm
Ages 13-17
Free
Enjoy a variety of games, activities, sports, movies, and more with other teens from the community.

Career Development

Monday 3:30-4:30pm
Ages 15-17
Free
Are you 15-17 and ready to start looking for a job? Have no fear, Rec Leader Angela is here! Teens will learn how to format a proper resume and explore open opportunities within the community.

MEMORIAL CREW LEADERSHIP PROGRAM

Friday Night Live!

Brought to you by the SAN DIEGO COUNTY OFFICE OF EDIUCATION, this leadership program will focus on developing leadership skills, making your community a better place and having fun! This group will meet every week for 13 weeks and will require you to attend every week. Please see Rec Staff if you have questions or visit our website at www.sdfnl.net, or contact Salvador Garcia [email protected] or (858)569-3137

Tutoring

Monday, 3:30 to 4:30pm
Ages 15 to 17
Free
Would you like a little help with homework? Volunteers are here to help you progress through the learning process.

Mentoring Club

Friday, 4:00 to 6:00pm
Free
This program focuses on guidance for everyday life situations. Daily activities focus on inspiring, coaching, skills, building, and advancement to make positive life decisions.

 

Activities for Adults

Volleyball

Thursday, 7:00 to 8:30pm
Free

Open Play Basketball

Wednesday, 6:00 to 8:30pm
Saturday, 12:00 to 5:00pm
Sunday, 12:00 to 5:00pm
Free

Aerobics

Monday and Wednesday, 5:00 to 6:30pm
$6/month

Weight Room

Monday to Thursday, 12:00 to 8:45pm
Friday, 11:00 to 6:45pm
Saturday and Sunday, 9:00 to 4:45pm
$10/month

Field Trips – See Staff for Details

Haunted Trails – September 28

Camp Stevens Ropes Course – September 30

Scream Zone – October 27

Jump Around – November 10

VILLA MONTEZUMA TOURS

Register today for a tour and see this magnificent Queen Anne Victorian mansion located in the Sherman Heights Historic District!

Go To: SDRecConnect.com and Search: "Villa Tours" to Register-or-Register at the Memorial Recreation Center.
October 21, 2017
9:00 to 12:00 pm
Free

 

Register Online!
Visit SDRecConnect (link) to conveniently browse a variety of activities offered by the City of San Diego Park and Recreation Department and Recreation councils. It's as easy as One, Two, and Three.
Sign up for an account, find a class or activity, and register!
If you are registering a child for an activity, please do not use the child's information when completing a New Account. Adding family members after successfully creating an account can be completed later.
Please note: An email which includes a confirmation message will be sent after you sign up a new primary account. It is possible the email may go to your junk or spam folder.
The email will include a special first-time activation link. You will not be able to use your new account until you've used this special link!
If you need assistance, please see the Frequently Asked Questions link at the bottom of the SDRecConnect website.
Current Special Events and Activities
Fun for one, fun for all! Check out your local Recreation Center's program guide for more details.
BookNook
The BookNook program is a "take a book, leave a book" gathering place at your favorite recreation center. Share your favorite literature and stories with others.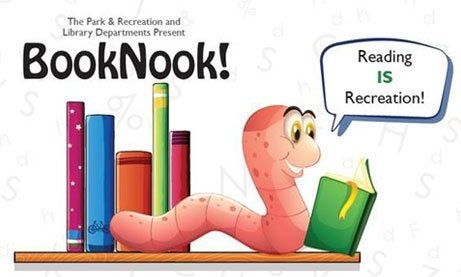 ---
History of the Center
The center was built in 1944 and was rebuilt in 1994 to better serve the needs on the community. The redesign included additional restrooms, a large kitchen, and a remodeled patio area.
---
Directions and Bus Route
From Interstate 5 take the National Avenue exit and turn right. Turn left on 29th Street. The center is approximately one block ahead.
From Interstate 15 take the Oceanview Boulevard exit and turn right on Oceanview. Turn left on 30th Street then right on Marcy Avenue. The center is on the right.
The center is accessible by bus via SDMTS Routes 3 and 11