Dolores Magdaleno Memorial Recreation Center
 

Register or view available classes

 
What's Coming

Basketball
Winter 2018
Cost: $10
Memorial Basketball is back for boys and girls! Our rec league is perfect for laying down the fundamental skills players need to play the game of Basketball. We will be hosting pee wee 10, 12, 14 and 16 and under boys and girls teams. The S.P.O.R.T.S. Committee will be hosting the city wide tournament at the end of the league. Come join the fun!

14 and Under Basketball Schedule

16 and Under Girls Basketball Schedule
Futsal Fridays
Fridays, 5:00 to 7:00pm
Ages 11-17
Free
Come with your team or join a team here. Open to all skill levels!
Youth Boxing
Tuesday and Thursday 5:00 to 6:00pm
Age: 10 to 17
Free
Participants will learn from experienced instructors and train with peers in a competitive, safe, clean, and fun environment. Through a well-rounded exercise regimen including cardio and boxing, your children will develop focus, self-control, concentration, discipline, manners and respect.
Events
SDPD vs. Teens
Come and challenge your local police officers to a game of basketball, futsal and many other sport activities! This event is held the LAST Friday of each month and is open to teens 13-17 years old. Come enjoy music, competitive sport and so much more.
Activities For Kids
Movie Day for Kids
Fridays 5-7pm
Ages 12-17
Free
Join us for a movie! A great way to meet new friends and create fun memories!
Ballet Folklorico
Tuesdays and Thursdays 6-8pm
Ages 4-5
Free
Ballet Folklorico is a Mexican style dance that emphasize local folk culture with ballet characteristics. The dance class consist of exaggerated movements, and highly choreographed performances. This class is great for beginners to intermediate students.
Memorial Teen Center
Monday – Friday 3-7pm
Ages 13-17
Free
Enjoy a variety of games, activities, sports, movies, and more with other teens from the community.
Career Development
Monday 3:30-4:30pm
Ages 15-17
Free
Are you 15-17 and ready to start looking for a job? Have no fear, Rec Leader Angela is here! Teens will learn how to format a proper resume and explore open opportunities within the community.
Youth Ceramics
Ceramics class teaches basic casting, cleaning, and painting. Don't miss out on this week's project! Adults welcome!
Cost: Adults $10 KIDS FREE!
Tutoring
Monday, 3:30 to 4:30pm
Ages 15 to 17
Free
Would you like a little help with homework? Volunteers are here to help you progress through the learning process.
Mentoring Club
Friday, 4:00 to 6:00pm
Free
This program focuses on guidance for everyday life situations. Daily activities focus on inspiring, coaching, skills, building, and advancement to make positive life decisions.
Activities for Adults
Volleyball
Thursday, 7:00 to 8:30pm
Free
Open Play Basketball
Wednesday, 6:00 to 8:30pm
Saturday, 12:00 to 5:00pm
Sunday, 12:00 to 5:00pm
Free
Aerobics
Monday and Wednesday, 5:00 to 6:30pm
$6/month
Weight Room
Monday to Thursday, 12:00 to 8:45pm
Friday, 11:00 to 6:45pm
Saturday and Sunday, 9:00 to 4:45pm
$10/month
Field Trips – Ages 13-17
Ice Skating at the KROC – December 2017 - $10 ACTIVENET #:47383
A Trip to the Movies – January 2018 - $7 ACTIVENET #: 47385
Jump Around – December 9, 2017 – FREE See Staff for Details
Camp Stevens Ropes Course - $20 ACTIVENET #: 47456
Disneyland – March 15, 2018 - $83 – ACTIVENET #: 47374
VILLA MONTEZUMA TOURS
Register today for a tour and see this magnificent Queen Anne Victorian mansion located in the Sherman Heights Historic District!
Go To: SDRecConnect.com (link is external) and Search: "Villa Tours" to Register-or-Register at the Memorial Recreation Center.
NEXT TOURS TBA
FALL RECAP
Teens at the Memorial Recreation Center took a trip to the Scream Zone in Del Mar experiencing the Haunted Hay Ride, Haunted House, and the frightening Karnevil!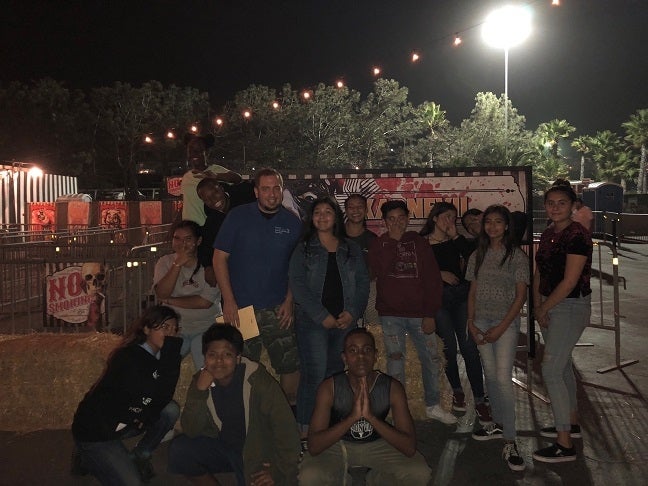 Thank you to everyone who came out to enjoy the 2017 Memorial Recreation Center Harvest Festival sponsored by United Environmental!
The event consisted of jumpers, magic, music, face painters, balloon artists, a photo booth, food and 200 turkeys that were given away to the community for free!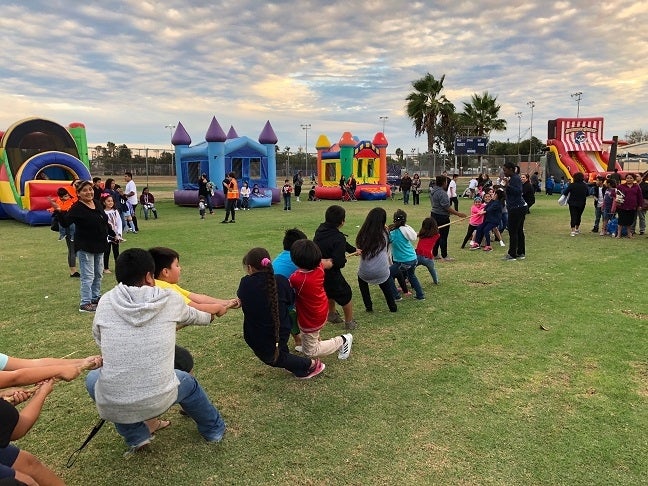 The Memorial Recreation Center teens were able to share a wonderful "Teensgiving Dinner" with staff and friends.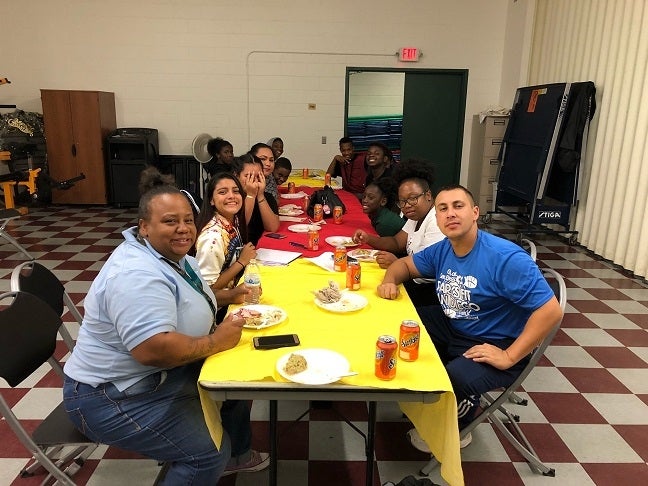 ---
History of the Center
The center was built in 1944 and was rebuilt in 1994 to better serve the needs on the community. The redesign included additional restrooms, a large kitchen, and a remodeled patio area.
---
Directions and Bus Route
From Interstate 5 take the National Avenue exit and turn right. Turn left on 29th Street. The center is approximately one block ahead.
From Interstate 15 take the Oceanview Boulevard exit and turn right on Oceanview. Turn left on 30th Street then right on Marcy Avenue. The center is on the right.
The center is accessible by bus via SDMTS Routes 3 and 11