Volunteer Opportunities
---
Volunteers In Policing (V.I.P.)
Hours: Varies, depending on assignment
Location: Varies
Minimum Age: 18
Court Referrals: No
Volunteers must pass a Police Background. (No persons with felony or misdemeanor convictions accepted.)
Area Station V.I.P.
Assist area station by conducting follow up research, verify reports, telephone calls of witnesses and victims; complete police crime reports; answering phones, filing and other office tasks.
Telephone Report Unit V.I.P.
Take police reports over the phone of minor and "no suspect" crimes, ensure proper elements of crime type exist.
Other opportunities may be available, please contact the Officer In Charge at 619-446-1017 to discuss options.
Qualifications: Flexible; Good communication skills. All applicants must pass a Police Background.
Time Commitment: Mostly weekdays; 20 hours a month, with a six month commitment.
---
Retired Senior Volunteer Patrol (R.S.V.P.)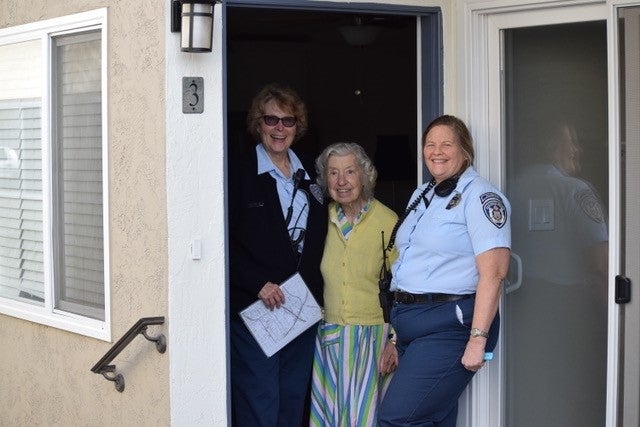 Hours: Vary; see below.
Locations: Vary
Minimum Age: 50
Court Referrals: No
Volunteers must pass Police background check. (No persons with felony convictions or currently on probation accepted.)
Assist Area Stations in providing an increased level of crime prevention programs within specific geographic boundaries by providing additional resources to Department; perform vacation house checks, You Are Not Alone checks, etc.; promote community awareness and acceptance of R.S.V.P. program.
Qualifications: 50 years of age or older; interest in working with law enforcement officers; effective oral and written communication skills; reliable and trustworthy with confidential information; in good health; valid California Driver's License. Time Commitment: Three 8-hour shifts/month.
For more information, contact the Officer In Charge at 619-446-1016.
---
Cadet Program
The basic Cadet requirements are as follows:
16-21 years old
Have graduated High School or have a minimum 2.0 GPA if still enrolled in school
Successfully complete a written exam, character interview and background check
Time Commitment: After completion of the academy, Cadets are required to attend two meetings a month. They are on the first and third Monday of every month from 6 p.m. - 9 p.m. at the San Diego Police Department Headquarters building, 1401 Broadway, San Diego, CA 92101(link is external). It is highly recommended that Cadets also participate in other activities, but it is not mandatory. Therefore, time commitment with the Cadet program can range from the minimum of four hours a month to over 40.
Cadet Academy: The Cadet academy must be completed before becoming a Cadet. Each academy will start with a mandatory orientation meeting where more definite information will be given. For the next six sessions, class is held every Monday night from 5 p.m. - 9 p.m., and every Saturday from 8 a.m. - 4 p.m.
The training academy includes courses on CPR, Criminal Law, Arrest Procedures, Search and Seizures, Ethics, Law and Arrest, Map Book Reading, Narcotics, Report Writing, Policy and Procedures, Field Training, Defensive Tactics and Patrol Procedures.
Approximately one week after completion of academy classes, a graduation is held to honor those who have passed.
While teamwork is emphasized throughout the academy, individual achievement is recognized as well. Five awards are presented upon graduation. The first is the Academic Achievement Award given to the Cadet with the best test scores. Next is the Top Cadet Award given to the Cadet chosen by his/her fellow Cadets based on motivation and team effort. Third is the Most Improved Award given to the Cadet the officers feel has come the farthest in terms of attitude and achievement. Last are the Physical Fitness Awards for the top Cadets based on push-ups, sit-ups and run times.
Advance Cadet Training (ACT) Academy: The Advance Cadet Training Academy is a great privilege and learning experience for the Cadets. It is NOT MANDATORY, but it is so much fun that most Cadets choose to spend five hours a day for four days, and all day the following Saturday participating in it. A few of the highlights include an introduction to S.W.A.T., a demonstration from the fire department, learning Patrol Procedures, Advance Radio Procedures, Street Weapons, Officer Survival, Defense Tactics, and Arrest and Control.
A trip is also taken to the obstacle course for Cadets to test their physical abilities. Cadets are timed in completing challenging tasks such as carrying a 180 pound dummy, jumping over four, six, and eight foot fences, crawling through dog houses, jumping through windows and much more.
On Saturday, the last day of the A.C.T. Academy, Cadets participate in "Duffy Town," a simulated town complete with houses, a bank, a store, live victims, gang members, thieves and innocent bystanders played by police officers. This is a chance for Cadets to utilize the skills they have learned in a controlled environment.
---
Crisis Intervention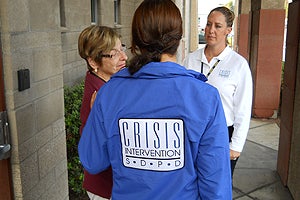 Hours: Vary; see below.
Locations: Vary
Minimum Age: 21
Court Referrals: No
Volunteers must pass Police Background (No persons with felony convictions or currently on probation accepted.)
Crisis Intervention Volunteer
Assist police by responding to scenes to assist citizens who have been affected by a crime or other critical incident. Provide emotional and logistical support, referrals, resources.
Qualifications: 21 years or older; communicate well with people; good driving record; valid CA drivers license; personal vehicle with insurance.
Time Commitment: Twenty "On-Call" hours per month. Attend monthly training meeting(s). Must be able to commit to 1 year involvement with the program.
For more information, contact please contact the Officer In Charge at 619-446-1014 or request information via e-mail at: [email protected]
---
Reserves
Reserves work in the same capacity as full-time police officers.
Hours: Vary; see below.
Locations: Vary
Minimum Age: 21
Court Referrals: No
Reserves must possess a current POST Level I certificate and pass the Police Background.  (No persons with felony convictions or currently on probation accepted.)
Qualifications: Must undergo the same hiring process as full-time officers and upon selection, successfully complete 400 hours of training with a Field Training Officer.
Time Commitment: At least 20 hours/month, attend Regional Officer Training, and Reserve Unit Meetings.
For more information, contact please contact Officer In Charge at 619-446-1014.
---
STAR/PAL Youth Program (Sports Training, Academics & Recreation / Police Athletic League)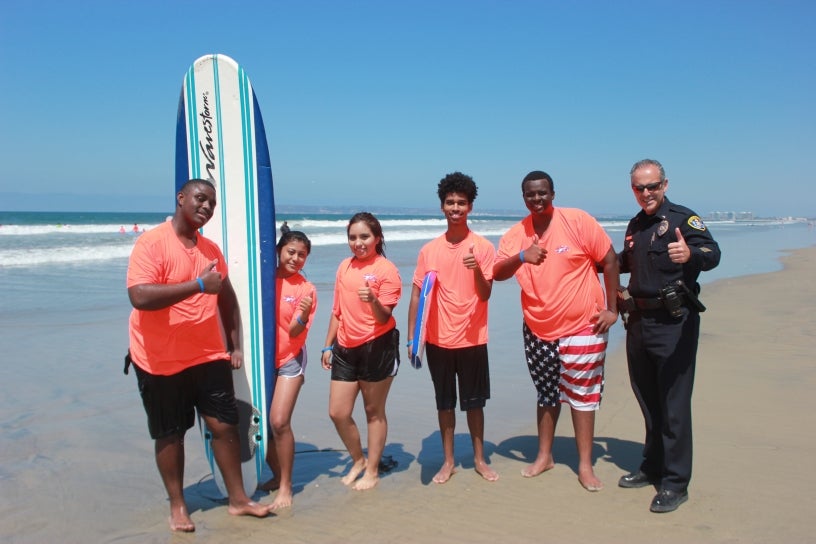 Hours: Vary; see below.
Location: 4110 54th Street, Colina del Sol Park
Minimum Age: 18
Court Referrals: No
(No persons with felony or misdemeanor convictions accepted.)
Provide homework assistance and some remedial help to students studying in City or County branch libraries at various locations.
Qualifications: Patient; flexible; enjoys working with children; dependable.
Time Commitment: 1-2 days/week; 1+ hours/day; late afternoons.
Assist with youth athletic or recreational activities, including score keeping, judging, timing, umpiring, set up/take down, food service, etc. May include football, track & field, soccer, basketball, swimming, fishing, math olympiads, etc.
Qualifications: Enjoys working with youth; knowledge of sports and rules where needed.
Time Commitment: Weekends; 4 hours/event or duration of event.
---
SD Family Justice Center Volunteer
Minimum Age: 18
Court Referrals: No
Volunteers must pass a City of San Diego Personnel Dept. background.
(No persons with felony or misdemeanor convictions are eligible)
Administrative support -projects that need to be completed for the FJC which involve clerical support and other assignments for staff;
Children's room - supervising and engaging in activities with children in the children's room which offers books, toys and games, and children's videos;
Interpreters - assist with translating for clients (our greatest need is for Spanish language interpreters but all languages are welcome);
Reception area - assist at our front desk welcoming clients, checking clients in, answering the phones, making copies and distributing mail;
Special projects -special events, grant writing, fundraising events, public relations and planning of community events.
Time Commitment: Our center is open Monday - Friday from 8 a.m. to 5 p.m. We require a minimum of 16 hours per month in four hour increments. We require the volunteer to make a nine month commitment as a volunteer here. It is absolutely acceptable if volunteers wish to work longer hours or stay longer than nine months.
---
San Diego Community Clergy Response Team (SDCCRT)
The goal of the SDCCRT is to partner sworn police officers with local clergy members from all faiths to help build a lasting relationship between the community and the San Diego Police Department to make the City safer.
As a member of SDCCRT, you will receive cutting-edge, customized training alongside SDPD sworn police officers.  You will ride in patrol cars with officers and together offer resources and seek personalized solutions to the problems and issues that impact the various communities that make up the City of San Diego during times of challenges and crises.
Qualifications:
Able to ride (volunteer) in an officer's patrol car at least 10 hours a month (minimum of a 5-hour shift each time you ride with an officer)
Master's degree from an accredited graduate institution or denominational equivalent (Approximately five years of continuous missionary field work]
Ecclesiastical license in good standing
Current involvement in a ministry, congregation or church-related organization in San Diego County
Possession of a valid California I.D.
Passing an oral interview and background check
Never having been convicted of a felony or criminal offense involving moral turpitude
Disclaimers:
Confidential communications between a penitent and a member of the clergy are privileged under the California Evidence Code. The privilege may be claimed by either the penitent under EC 1033, or a member of the clergy under EC 1034. Members of the clergy participating in the SDCCRT program should not expect that any communications will be confidential; and while engaged in the SDCCRT program, the penitent-clergy privilege shall not apply.
Members of the clergy are mandated reporters as defined in California Penal Code section 11165.7(a)(32). While participating in the SDCCRT program, members of the clergy are required to report all known or suspected cases of child abuse or neglect.
If you are interested in applying or would like more information, please email Acting Lieutenant Carmelin Rivera at [email protected].
Note:
This is a different program than the Police Chaplaincy program.  The main purpose of the Police Chaplaincy program is to provide a presence of spiritual and emotional care and counseling for sworn and non-sworn personnel of the SDPD, while SDCCRT's primary focus is on providing services to community members.  If you are interested in becoming a Police Chaplain, please contact the SDPD Wellness Unit at 619-531-2243.