Reservoir Dams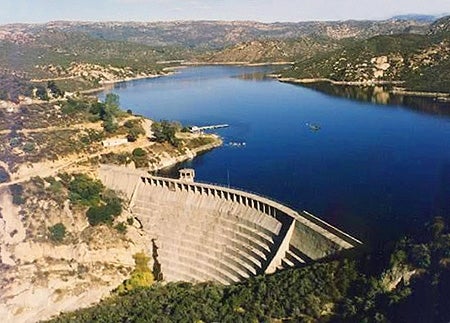 All City of San Diego reservoir dams are regularly inspected by the California Division of Safety of Dams. The City operates each dam and reservoir in accordance with state requirements to ensure their safe condition and the safety of surrounding communities.
In the event of a planned or emergency water release, the community will be notified, and information will be posted on the City's Reservoir Lakes website as well as on City social media channels.
We encourage you to review the maps below to see if you live downstream from one of our reservoirs. Resources about emergency preparedness are available from the City and the County.
If you're unable to open any of the following files in your browser, these documents can be downloaded and viewed using the free Adobe Reader.
Dam
Year Built
Current Condition
Map
Barrett
1922
Fair
Barrett Map
El Capitan
1935
Poor
El Capitan Map
Hodges
1918
Unsatisfactory
Hodges Map
Miramar
1960
Satisfactory
Miramar Map
Morena
1912
Poor
Morena Map
Murray
1950
Fair
Murray Map
Lower Otay (Savage)
1918
Poor
Otay (Savage) Map
San Vicente

1943, raised 2016

Satisfactory

San Vicente Main Dam Map

San Vicente Saddle Dam Map

Sutherland
1954
Satisfactory
Sutherland Map
For more information, please contact the Public Utilities Department at lakes@sandiego.gov or 619-527-3932.