Program Management

Join Us in Saving Lives in Your Community
San Diego Project Heart Beat is the regional Public Access Defibrillation/CPR Program managed by the San Diego Fire-Rescue Department.
The goal of San Diego's Public Access Defibrillation (PAD) Program, San Diego Project Heart Beat, is to improve the survivability of sudden cardiac arrest (SCA) victims in San Diego by placing AEDs everywhere a life can be saved by making AEDs as accessible as fire extinguishers in any and all public and private arenas including: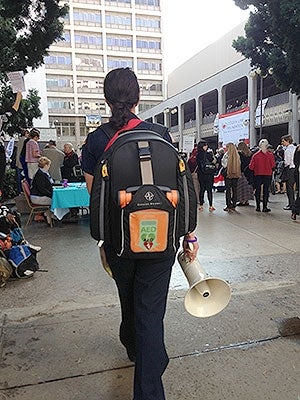 City and County Facilities
Businesses
Tourist Attractions
Healthcare Facilities
Educational Facilities
Equally important is to educate all of society within the region simple recognition and response to Sudden Cardiac Arrest.
San Diego Project Heart Beat (SDPHB) offers every element needed to establish one of these life-saving programs easily, affordably and successfully. We offer the communities of San Diego County what we feel is the highest end quality AED at the most affordable package price. Through our American Heart Association Training Center we offer certification courses in CPR/AED and First Aid. Our Program Management services assist with the compliance requirements for the use and placement of AEDs in any venue. SDPHB is recognized as one of the nation's leaders in Early Access Defibrillation programs for its structural organization and its success.
AED Signage
Triangular wall mounted signs attract the eye toward the location of the AED. These are priced at $35.00 each. Contact your Project Heart Beat representative at heartbeatadmin@sandiego.gov or (619) 243-0909 for additional information or to obtain a sign for your location.