Climate Action
The Climate Division of the Sustainability & Mobility Department leads the implementation of the City's landmark Climate Action Plan (CAP). The 2022 CAP establishes a community-wide goal of net zero by 2035, committing San Diego to an accelerated trajectory for greenhouse gas reductions. Achieving net-zero emissions will improve the air we breathe, the communities we live in, and our overall quality of life.
Tackling climate change has created an opportunity for San Diego to do well for our environment while also boosting our economy. Strategies of the Climate Action Plan (CAP) are intended to promote job creation through capital improvements and corresponding research, development and innovation. These jobs are primarily in high-growth "green job" or "clean tech" with corresponding well-paying wages.
In 2019, job growth in the five CAP-related industry groups continued to rise. Nearly four out of five new jobs are in the Energy and Water Efficient Buildings industry. San Diego's jobs in these industry groups grew 20.3% from 2010 to 2019.
Jobs by Category Chart 2010 - 2019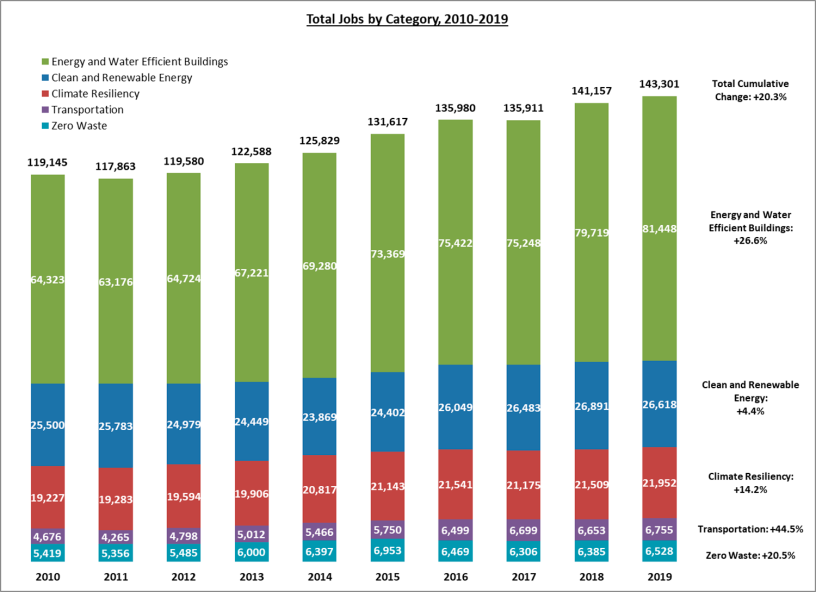 By 2030
---
Increase the number of zero-emissions vehicles in the municipal fleet to 50 percent
By 2035
---
Add additional renewable electricity supply to achieve 100 percent renewable electricity citywide
Increase the number of zero-emissions vehicles in the municipal fleet to 90 percent 
100 percent conversion from diesel fuel used by municipal solid waste collection trucks to compressed natural gas or other alternative low-emission fuels
Did you know?
The City of San Diego, with the Balboa Park Cultural Partnership, was SDG&E's 2015 Energy Grand Champion for its energy-saving measures. From 2012 to 2014, San Diego installed 3,600 adaptive control LED street lights and 27 electric vehicle charging stations, participated in demand response programs, and completed energy efficiency audits, upgrading 60 of the City's highest-use buildings and facilities.