Guide to the City Clerk's Archives
Introduction
Begun in late 1987, the Archives Program is part of the Records Management Division of the City of San Diego Clerk's Office.

Council Policy #000-25 and

Municipal Code Section 22.2603 et. seq. authorized the City Clerk to develop a comprehensive Records Management Program. The program includes the establishment of an Archives Center to serve as a central source of information and materials regarding the history and development of the City of San Diego.
This guide was prepared to acquaint you with some of the functions of the Archives of the City and the services available to you.
Archives Program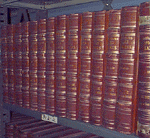 Among the primary functions of the City's Archives Center are the identification, preservation and storage of records with permanent reference value that capture the City's history. In addition to a chronology of events, this helps document our progress as a City.
Archival records show how the City identified and coped with administrative and operational issues; how policy and procedures were developed and how City forefathers enacted and enforced legislation.
By preserving the past, the Archives will enhance the present and enrich the future history of San Diego.
Collections
The Archives consist of permanent records which are valuable in preserving the history of San Diego and provide educational enrichment for its citizens.
The Archives includes selected City records dating as far back as 1817. Many of these are books. Individual documents are carefully preserved in acid free boxes and file folders. The Archives Center also has temperature and humidity controls for the preservation of these historical documents.
Research Services
Records in the Archives are available to City staff and members of the public for research purposes. The records shall be viewed on site only and shall not be removed from the City Clerk's Office.
To reduce and prevent further damage of fragile documents by frequent handling, some materials may be in microfilm format only.
Hours
The Archives Center's collections are available from 9 a.m. to 3 p.m., Monday through Friday. For further information, contact the City Clerk's Office at (619) 236-6143.
Address
City Administration Building
202 C St., Basement
San Diego, CA 92101