San Diego Girl Scouts Tour Olivenhain Dam
Date: Saturday, September 25th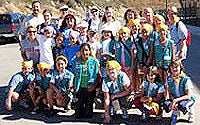 9:30 a.m.: Meet and greet at Elfin Forest Reserve
10 a.m. - 12 p.m.: Tour of Olivenhain Dam facilities hosted by Olivenhain Municipal Water District (OMWD). Follow the path of water through the Dam and learn about the facility that was built as part of San Diego Emergency Water Storage Project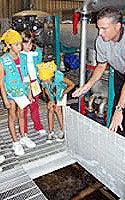 12 p.m. - 1 p.m.: Lunch with OMWD staff and local engineers. Lunch provided by CDM. Learn about the engineering profession in general, how girls can get involved, and ways to conserve water in your local neighborhood.
More information on the Olivenhaim Dam
The Olivenhain Dam was created with the San Diego County Water Authority as part of the Emergency Storage Project. The Dam and Reservoir were designed to help to ensure a safe and reliable water supply for the San Diego County Water Authority in the event of an interruption in imported water deliveries. The dam is 308ft tall and 2,400ft wide, and the reservoir will hold 7.8 billion gallons of water, or enough to sustain 192,000 people for a year.