Community Profiles Downtown/Centre City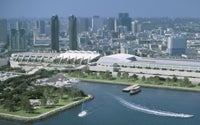 Downtown San Diego encompasses eight different neighborhoods: Gaslamp, East Village, Columbia, Marina, Cortez, Little Italy, Horton Plaza and Core. These neighborhoods are the heart of the business, arts, and entertainment communities. Twenty years of redevelopment have transformed downtown into a vibrant and exciting place to live, work and play.
Visit the Civic San Diego website for the Downtown Community Plan and additional information on this community.