Maps & Urban Analysis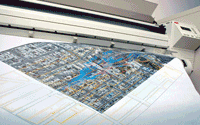 Mapping and Geographic Information
Visit the mapping page to explore various mapping resources such as community planning area maps, historical mapping documents, and interactive maps. This page also provides information on how to request custom maps or download GIS data.
Demographic & Socio-Economic Information

Read City of San Diego Population and Socio Economic Estimates - (2010 Census)
Other Related Information
SANDAG creates and maintains demographic information about the region including the City of San Diego. Demographic data includes population characteristics like age, education, and employment. The San Diego Association of Governments (SANDAG) develops annual demographic estimates and long range forecasts in addition to maintaining census data files.