Library Lending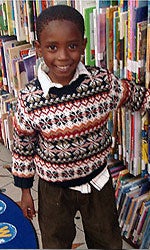 In order to borrow library materials you must present a valid San Diego Public Library card.
With a San Diego Public Library Card, you can:
check out books, magazines, DVDs and CDs
place holds and access your account online
access library databases from home
download audiobooks and ebooks
San Diego Public Library Lending Policy (

English |

Spanish)
Library Card Requirements
Library cards are free to applicants who reside in California or own property in the City of San Diego, and to men and women serving in the Armed Forces who are stationed within San Diego County. For non-residents, the annual fee for a library card is $32.
Preferred Forms of Identification
California Driver's License
California identification Card
Government issued ID Cards (including Military Identification)
Passport
University, College, School Identification
Verification of Address
If your current address is not listed on your photo identification, please bring one of the following documents:
Utility bill (electric, cable, phone, water)
Official mail with a recent postmark, i.e. bank statement, insurance bill, etc.
Vehicle registration or proof of insurance
Checkbook and preprinted checkes with your address
Borrower Responsibilities
When you sign your library card you assume responsibility for anything that is checked-out on the card. If you change your address, email address, etc., notify the library on your next visit. If your library card is lost or stolen, it is very important to notify the library as soon as possible since you are still responsible for items checked out on your card.
When an item is lost, you will be charged the cost of the item, any accrued overdue fines, plus a processing fee.
Library card replacement fee is $1.
Your Library Card may be used at any City of San Diego Public Library location.
Account Renewal
Library card privileges expire every two years. In order to renew your account, please present proof of current address at any San Diego Public Library location.
Loan Policy and Item Limits
Maximum Items on a Library Card at One Time: 40
Checked out materials may be returned to any City of San Diego Public Library location.
| Limits by Material * | Item Limit | Lending Period |
| --- | --- | --- |
| Books, magazines, music scores, audio-visual materials (DVD, VHS, CD) | 40 total items | Varies by type** |
| Express Books | 5 | 14 days |
| cloudLibrary eBooks and Audiobooks | 5 | 21 days |
| Express DVDs | 5 | 7 days |
| Museum Membership Pass | 1 | 10 days |
| Portable Electronics (Take Home) | 1 | 21 days |
| Portable Electronics (In-House) | 1 | 2 hours |
| RBdigital Audiobooks | 5 | 21 days |
*Material may not be transferred from one library card to another.
**Loan period for print materials and CDs is 21 days. For videorecordings the loan period is seven (7) days.