Policies & Planning
The City has a number of policies and plans related to trees. Below is information and web links for permits, City Council policies, sections of the Municipal Code, and tree-related plans.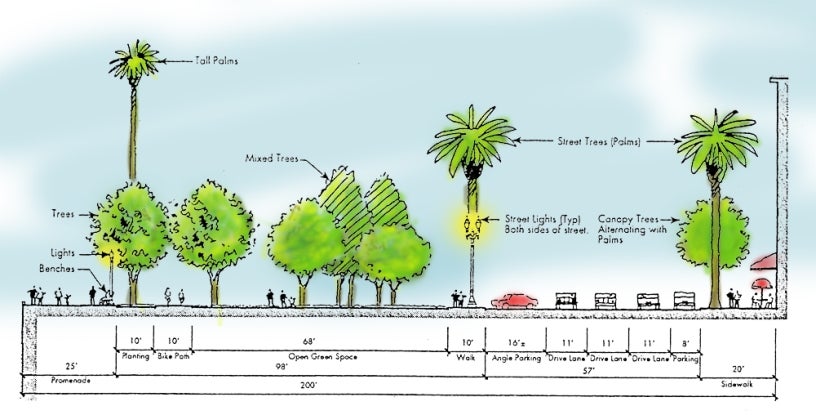 Permits
Street Tree Permit Application – This permit is required for planting, removal and maintenance of trees along streets, sidewalks and other City rights-of-way. The application also includes a Plot Plan to be used to show the location of trees in relation to rights-of-way, utilities and other infrastructure. Refer to Bulletin 122 for Site Plan and Vicinity Map
Planning
Urban Forestry Program, Five-Year Plan – Adopted in 2017, the long-range plan brings together existing policies and guidelines, best urban forestry management practices, and community planning.
Climate Action Plan – To prepare San Diego to be climate resilient, one area the City is focusing on is increasing its urban forest with more street trees and new parks.
Park Planning – This section of the City's Planning Department reviews park projects to ensure adherence to General Plan standards for population-based parks, as well as impacts to the City open space park system. This section also manages updates and amendments to existing park master plans and prepares recreation elements to community plans. The Park & Recreation Board advises the Mayor and City Council on public policy matters relating to the acquisition, development, maintenance and operation of parks, beaches, playgrounds and recreational activities.
Council Policies
Public Tree Protection (Council Policy 900-19) – This policy provides protection to designated trees located in public rights-of-way, on City-owned open space, in parks or other publicly owned lands, wherever practical.
Municipal Code
Community Forest Advisory Board (MC 26.0501 – 26.0503) – The Community Forest Advisory Board advises the Mayor on all policy issues relating to urban forestry.
Street Planting (MC 62.0600) – This policy establishes rules and regulations to control and protect planting on City streets.
Landscape Regulations (MC 142.0400) – The purpose of these regulations is to minimize the erosion of slopes and disturbed lands, to conserve energy and water, to reduce the risk of fire, and to improve the appearance of the built environment.