Ten Key Steps to Starting a Business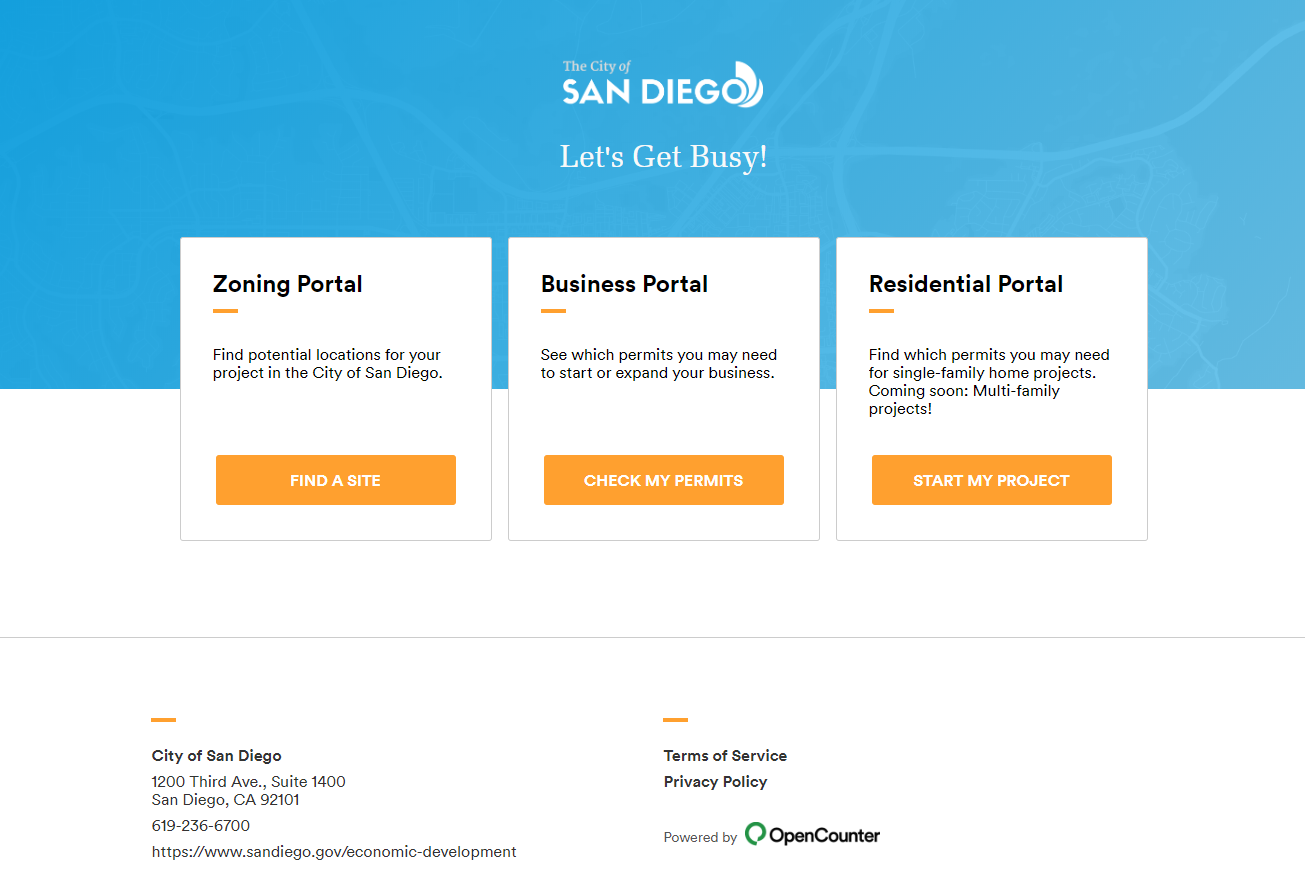 Download a complete version of the

10 Key Steps to Starting a Business
Spanish version: 

10 Pasos Clave Para Iniciar Su Negocio
There are several key steps to starting a business in the City of San Diego. The steps may vary depending on the type of business you intend to launch. Following the 10 Key Steps to Starting a Business will give you a general idea and help the process run smoothly.
Many steps can be researched and processed online through the websites listed, saving you the time of calling or visiting department or agency offices. The City's Central Library and all branches provide Internet access during library hours.
Research what it takes to start a business. (A City of San Diego Public Library is has resources, too.)
Find out where you can locate your business, what permits you might need and how much they'll cost---all through OpenCounter Online Business Portal. The City's Development Services Department can also assist. If you plan to operate out of your home, obtain information about requirements for Home Occupations.
Determine a Business Name and register at County of San Diego, Assessor/Recorder/County Clerk's Office.
Create a Business Plan with help from the Small Business Development Centers (SBDC) South San Diego, North San Diego and U.S. Small Business Administration.
Determine the Business Activity Type from the list provided by the Office of City Treasurer's Business Tax Certification application.
Determine the Legal Structure of the business.
Obtain any special licenses and permits. (Read more about this in the complete version of 10 Key Steps.)
Get tax information from the California Tax Information Center (link is external), and the Internal Revenue Service.
Learn about Employer Responsibilities at the City level (Earned Sick Leave and Mininum Wage Ordinance) from the Office of the City Treasurer. Learn about Employer Responsibilities at the State and Federal levels from the Employment Development Department and Internal Revenue Service. 
Apply for a Business Tax Certificate (Business License) from the Office of the City Treasurer, Business Tax Division.
For those business startups that do not have access to the Internet, the City's Central Library and all branch libraries provide access to the Internet during hours the library is open.
Download a complete version of the

10 Key Steps to Starting a Business, which includes contact information and additional resources. 
Spanish version:

10 Pasos Clave Para Iniciar Su Negocio
For questions or concerns, please contact the Economic Development Department at 619-236-6700 or email us at [email protected]