Community Cleanup/Recycling Events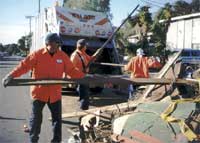 Community Cleanups, provided by the City through the Environmental Services Department, are designed to help San Diegans properly dispose or recycle bulky items that do not fit in the City's refuse collection or curbside recycling containers.
Important: Residents who receive the curbside pick-up service will receive a flyer in advance of the pick-up date. If you don't receive a flyer, please do not put your items out for collection because it will not be picked up.
More than 70 events are held each year thanks to sponsorship from the Environmental Services Department and community groups. The events are held at different locations throughout the City in order to service as many areas as possible. Each Community Cleanup event collects approximately 25 tons of trash and nine tons of recyclables, preventing recyclables from going into the landfill and garbage from being illegally dumped on our streets and alleyways.
Once an area is selected, a Solid Waste Code Enforcement staff member works with the neighborhood group(s) to distribute flyers informing the residents included in this cleanup about the cleanup date, time and guidelines.