Community Profiles East Elliott
Community Area: Central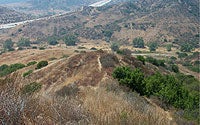 Photo of Open Space Bounded by Miramar Marine Corps Air Station to the north and west, state Route 52 and Mast Boulevard to the south, and the city of Santee to the east
East Elliott is a portion of former Camp Elliott, purchased by the U.S. government in 1941 for use as a Marine Corps training camp. In 1961, approximately half of Camp Elliott, including present-day East Elliott, Tierrasanta and a portion of Mission Trails Regional Park, was declared surplus and sold. The 1962 Elliott Community Plan applicable to this area was updated in 1971, and in 1982 a separate community plan for Tierrasanta was adopted.
In 1997, the Multiple Species Conservation Program identified the majority of East Elliott as Multiple Habitat Planning Area (MHPA), where preservation of the natural habitat would be pursued. The East Elliott Community Plan was amended at that time to designate the MHPA as open space. Areas outside of the MHPA include the 474-acre Sycamore Landfill; a 117-acre area bordering the city of Santee, which was designated for low density residential development; and an 8 acre area at state Route 52 and Mast Boulevard, designated for office use. The community plan was amended in April 2002 to add aggregate processing as a permitted use at Sycamore Landfill, and a long range master plan is currently under review for the landfill.
East Elliott remains undeveloped, with the only uses being the Sycamore Landfill and a few telecommunication antennas. It is dominated by native vegetation, including sage scrub, chaparral, native grassland, and oak and sycamore woodland. It constitutes one of the largest and biologically most important remaining open space areas in San Diego with a number of endangered and threatened wildlife species.
This community plan document can be viewed from the links below. To purchase a hard copy of this community plan or one of our other planning documents, visit the City Clerk's Office at 202 C St., second floor, in downtown San Diego; or call City Clerk's at (619) 533-4000.
Additional Plan Documents