Community Profiles Encanto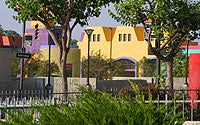 The eight communities that make up the Encanto neighborhoods planning area are Emerald Hills, Chollas View, Lincoln Park, Valencia Park, Alta Vista, O'Farrell, Broadway Heights and Encanto. The oldest of these, Encanto, was subdivided in 1907 and advertised for "suburban homes and small farms." While Encanto has maintained much of its semi-rural character, the other seven neighborhoods, which make up roughly 75% of the population (47,000) and 85% of the land mass (3811 acres), are largely suburban. Three quarters of homes are single family.
The Encanto Neighborhoods Community Plan is designed to expand the existing retail, commercial and light industrial areas along the main transportation corridors and the villages surrounding the trolley stops at 47th and Market streets, and Euclid Avenue and Market Street. Its cultural heart is the Market Street Village, situated along Chollas Creek and the trolley stop at the intersection of Euclid Avenue and Market Street. It's most notable geologic features are the hills and canyons that form the historic South Chollas Valley and the southern part of the Chollas Watershed. With its proximity to San Diego Bay just 2 1/2 to 5 miles away, temperatures tend to be mild. The area offers excellent opportunities for infill development, including commercial, transit-oriented mixed use along the main corridors, and view lots for single family residential in the surrounding hills.
---
---