Community Profiles Fairbanks Ranch Country Club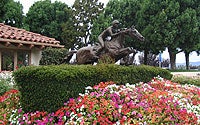 The Fairbanks Country Club community is located in the northwest region of the City of San Diego and is bounded by the County of San Diego to the north and east, the North City Future Urbanizing Subarea II to the west, and the Pacific Highlands Ranch community to the south.
The community consists of approximately 785 acres within the San Dieguito River Valley. The valley broadens from a narrow, steep gorge approximately one and a half miles to the north, into a broad valley which extends through the community toward the Pacific Ocean to the west. The valley floor ranges from one-half to one mile wide in the vicinity of the community and is bounded by steep slopes. The major natural land characteristics of the area are the floodplain, adjacent slopes of the valley, and the San Dieguito River.
With the adoption of the 1982 plan, specific areas of the community were designated for residential and open space land uses. Approximately 142 acres were designated for residential uses and approximately 643 acres were designated as open space. The developed residential areas consist of detached single-family units and condominiums located on the south and north slopes. The designated open space includes areas of recreational uses, such as the golf course, as well as the San Dieguito River corridor, and adjacent slopes of the valley. Through sensitive design and open space land uses, the community retains its rural and open space character.