Community Profiles: La Jolla
Community Area: Coastal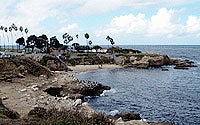 The La Jolla Community Planning area consists of approximately 5,718 acres and is located along the western edge of the north coastal region of the City of San Diego. It is bounded on the north by the University of California, San Diego (UCSD) and a portion of the University community; on the east by Gilman Drive, the University community and Interstate 5; on the south by the community of Pacific Beach; and on the west by the Pacific Ocean. The northern-most portion of La Jolla is separated from the remainder of the community by the Scripps Institute of Oceanography and a portion of UCSD. Neither Scripps nor UCSD are under the jurisdiction of the City of San Diego.
Visually dramatic, the primarily (58%) residential community of La Jolla is physically defined by its rugged coastline of ocean bluffs and beaches together with steep canyons and hillsides culminating at Mount Soledad. Until the mid 20th century, La Jolla was characterized by small, single family summer cottages that were located along the coastline or interspersed within the portion of La Jolla known as "The Village." "The Village" includes the area within the boundary of Prospect Street, Girard Avenue and Torrey Pines Road.
In 1946, Charles Eliot created the first comprehensive plan for the community. It concentrated on conserving La Jolla as a resort and preserving those features that attracted both visitors and residents to enjoy its natural surroundings. Since then, La Jolla has experienced substantial growth and land development resulting in the community currently being 99 percent built out. Consequently, the primary development in La Jolla is infill. In 1967, the first La Jolla Community Plan was adopted. That plan proposed broad goals and guidelines for development and set the framework for the precise plans of La Jolla Shores and the Fay Avenue Extension..
In 1975, the plan was updated to address the issues of vehicular congestion, pedestrian safety, noise pollution and air quality occurring upon construction of new streets in the community. In 1995, the plan was comprehensively updated, but was only adopted outside of the Coastal Zone. Another comprehensive update to the La Jolla Community Plan was adopted by the City Council in June 2002, and was subsequently certified by the California Coastal Commission in February 2004 following City approval of a number of suggested modifications. The 2004 La Jolla Community Plan and Local Coastal Program Land Use Plan is now the effective plan for La Jolla, and supercedes all plans previously approved for the various parts of the community including the 1975 La Jolla Community Plan, the 1985 La Jolla/La Jolla Shores Local Coastal Program, the 1995 La Jolla Community Plan, the La Jolla Shores Precise Plan, and the Fay Avenue Right-of-Way Plan.