Community Profiles Mira Mesa
Community Area: Northern Urbanized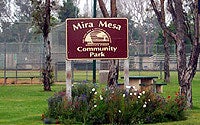 Mira Mesa is approximately 10,500 acres in area. It is bounded on the north by Los Peñasquitos Canyon, on the west by Interstate 805, on the east by Interstate 15, and on the south by Miramar Road.
Community Plan Update
The City of San Diego is updating the Mira Mesa Community Plan, which was adopted in 1992. The updated Community Plan will take into account current conditions, Citywide goals in the Climate Action Plan and the General Plan, and community specific goals to provide direction for the long-term development of the community. The Mira Mesa Community Plan Update will be a collaborative process with ongoing opportunities for public input. During the update process, Planning Department staff will work with the Mira Mesa community and the public to identify and consider important questions, issues, and opportunities including:
How will Mira Mesa grow over the next 20-30 years?
How can the community best plan for residential and employment growth?
What services, infrastructure or facilities are needed to meet this growth?
How can we build on the positive economic effect of Mira Mesa?
View the Mira Mesa Community Plan Update on the City page here, or visit www.PlanMiraMesa.org to learn more.